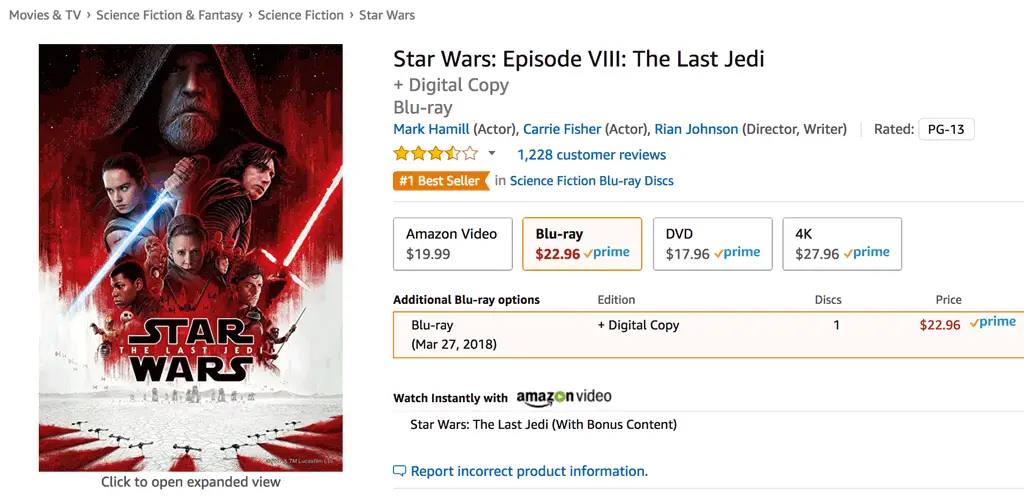 If you normally order Blu-rays and 4k Blu-rays from Amazon you may have noticed Star Wars: The Last Jedi hasn't been available to pre-order — until now. The disc release is officially today, Mar. 27 and the Blu-ray and DVD editions are finally listed to purchase. [Update: Weds., Mar. 28 the Blu-ray editions are "Temporarily out of stock."]
There were, however, 3rd party vendors selling Star Wars: The Last Jedi on Amazon for a lot more than the MSRP, and you could even pre-order the exclusive Best Buy Steel Book edition. But be careful about paying too much for this movie. Just because it's on Amazon doesn't mean it's a good price.
When we last looked, Amazon is selling the Blu-ray edition for $22.96 and Ultra HD Blu-ray edition for $27.96. If you notice though, Amazon doesn't even have the artwork yet for the Blu-ray or DVD versions of the movie. And, they seem to have some information labelled incorrectly such as the list price being $39.99 for each Blu-ray edition (shouldn't the 1080p Blu-ray be cheaper?), and number of discs said to be only one (the Blu-ray combo editions should each have two discs).
You might expect Amazon to update the misinformation and apply the correct product photos by day's end. In any case, it's another one of those Disney releases that Amazon either can't get or can't keep in stock. Amazon has been out-of-stock of Rogue One: A Star Wars Story, Pirates of the Caribbean: Dead Men Tell No Tales, and Blade Runner: The Final Cut, among other titles.
[amazon_link asins='B07885FYQP,B0784YGPNS,1524797111,B0788FL36D' template='ProductGrid' store='API-user-hdr' marketplace='US' link_id='961416a0-167a-11e8-a9a0-1d5840ef2886′]