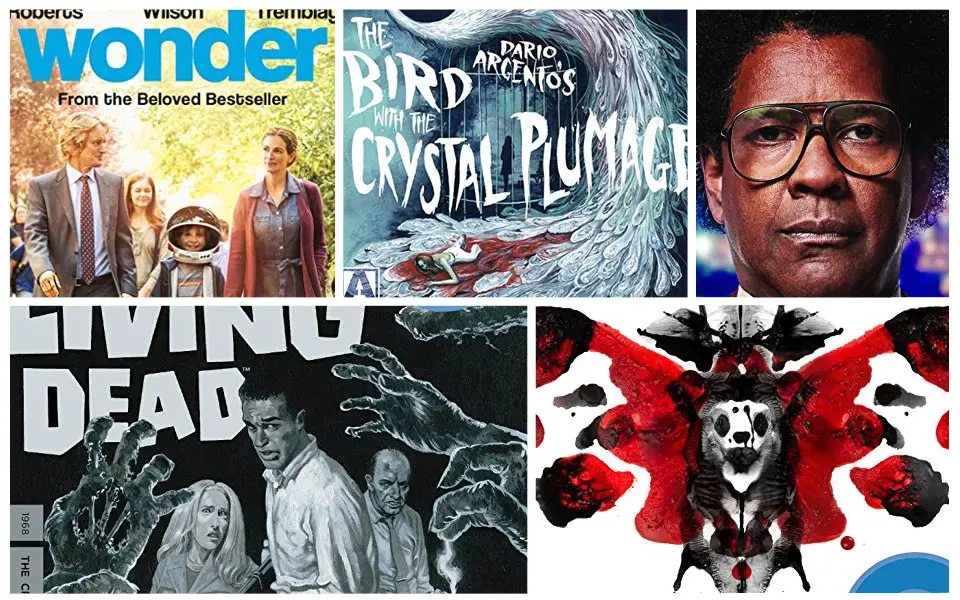 It's a big week for new Blu-ray releases with so many to choose from. So how about a few suggestions? First off, the movie Wonder is a great film for the family that's now available on both Blu-ray and 4k Blu-ray in combo editions that include 2 discs, bonus content, and a digital copy. The Oscar-nominated movie stars Jacob Tremblay, Izabela Vidovic, Julia Roberts, and Owen Wilson.
Criterion Collection has a couple new titles that are a must for every home theater collection. Night of the Living Dead (1968) from director George A. Romero has been newly printed on Blu-ray from a 4k digital restoration. And, 5-time Oscar-winner The Silence of the Lambs starring Jodie Foster and Anthony Hopkins has also been reprinted from a new 4k restoration that includes both 2.0 and 5.1 DTS-HD Master Audio surround soundtracks.
There is one additional 4k Blu-ray release to mention (especially if you're collecting 4k Blu-rays) and that's Hell Or High Water starring Jeff Bridges, Chris Pine, and Ben Foster. The Ultra HD disc edition features HDR with Dolby Vision and a Dolby Atmos soundtrack backed 24-bit Dolby TrueHD 7.1 audio. Here are our top picks for the week followed by a more extensive list.
New Blu-ray Releases, Feb. 13, 2018
Our Picks of the Week
Wonder (Blu-ray / Ultra HD Blu-ray)
Hell Or High Water (Ultra HD Blu-ray)
Night of the Living Dead (1968) – Criterion Collection
The Silence of the Lambs (1991) – Criterion Collection
The Bird with the Crystal Plumage (1970)
Roman J. Israel, Esq.
Doctor Who: Complete Peter Capaldi Years
More New Blu-ray Releases
TV Series
Doctor Who Special: Twice Upon a Time
The Deuce: The Complete First Season
Red Vs. Blue: Season 15
Animal Kingdom: The Complete Second Season
Food Wars: Second Plate (13 Episodes)
Movies
Hellraiser: Judgment
Monolith
Chokeslam
Sami Blood
Drag Me To Hell (2009)
The Incredible Hulk (2008)
V.I. Warshawski (1991)
Leatherface: The Texas Chainsaw Massacre III (1990) – Warner Archive
Black Eagle (1988)
Re-Animator (1985)
Baby: Secret of the Lost Legend (1985)
The Last Hunter (1980)
Orchestra Rehearsal (1978)
Night Of The Seagulls (1975)
Deep Throat Part II Collection (1974)
Benji – The Original Classic (1974)
The Blood Spattered Bride (1972)
The Thomas Crown Affair (1968)
Games (1967)
The Blood Spattered Bride (1972)
Threads
God's Own Country
Pokemon the Movie: I Choose You!
The Ballad of Lefty Brown
ATROZ
Almost Dead
Halo: The Fall Of Reach
Don't F*** in the Woods
Above Ground Level: Dubfire
Brotherhood of Blades II
33 & Beyond: The Royal Art of Freemasonry
Collections
Chaos / Don't Look in the Basement – Double Feature
Seijun Suzuki: The Early Years. Vol. 1
Be sure to check out last week's new Blu-ray Disc releases.
[amazon_link asins='B0789G9LSL,B07895V7YV,B077HKZH4N,B077H8N7PP,B077HP1DSS,B0776Q6DRY,B077RG1813,B077HKSWPV' template='ProductGrid' store='API-user-hdr' marketplace='US' link_id='fd7933d1-10d4-11e8-953d-45813a075123′]