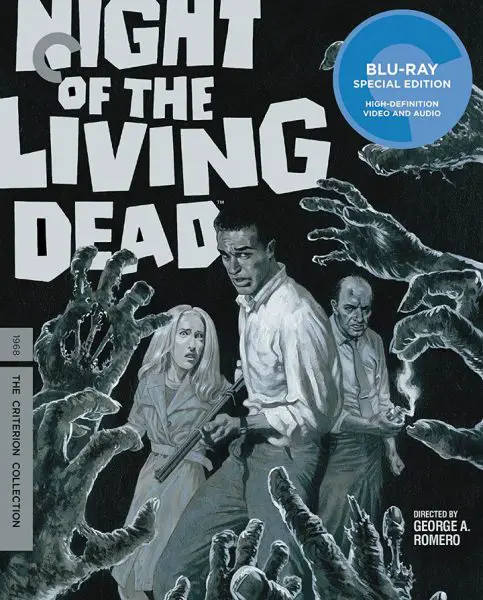 George A. Romero's classic horror film Night of the Living Dead (1968) has been digitally restored in 4k for this new Special Edition Blu-ray Disc from Criterion Collection. Don't misinterpret the headline though, this is not a 4k Blu-ray release but rather 1080p Blu-ray, with video and audio quality that's sure to surpass that of previous disc releases.
Romero oversaw the film restoration, which includes a newly restored monaural soundtrack also supervised by Romero along with sound engineer Gary R. Streiner.
Extras include "Night of Anubis" – a never-before-presented work-print edit of the film, a never-before-seen 16 mm dailies reel, new interviews with Gary R. Streiner and Russel W. Streiner, and other new and previously-released extras.
Night of the Living Dead from Criterion Collection has a street date of February 13, 2018. The Special Edition has an MSRP of $39.99 but is currently available to pre-order for $24.96. (See updated pricing from Amazon below.)
Synpopsis:
A deceptively simple tale of a group of strangers trapped in a farmhouse who find themselves fending off a horde of recently dead, flesh-eating ghouls, Romero s claustrophobic vision of a late-1960s America literally tearing itself apart rewrote the rules of the horror genre, combined gruesome gore with acute social commentary, and quietly broke ground by casting a black actor (Duane Jones) in its lead role.
2 Blu-ray Special Edition Features
– New 4K digital restoration, supervised by director George A. Romero, coscreenwriter John A. Russo, sound engineer Gary R. Streiner, and producer Russell W. Streiner
– New restoration of the monaural soundtrack, supervised by Romero and Gary R. Streiner, and presented uncompressed
– Night of Anubis, a never-before-presented work-print edit of the film
– New program featuring filmmakers Frank Darabont, Guillermo del Toro, and Robert Rodriguez
– Never-before-seen 16 mm dailies reel
– New program featuring Russo about the commercial and industrial-film production company where key Night of the Living Dead filmmakers got their start
– Two audio commentaries from 1994, featuring Romero, Russo, producer Karl Hardman, actor Judith O Dea, and more
– Archival interviews with Romero and actors Duane Jones and Judith Ridley
– New programs about the editing, the score, and directing ghouls
– New interviews with Gary R. Streiner and Russel W. Streiner
– Trailer, radio spots, and TV spots
– More!
– PLUS: An essay by critic Stuart Klawans
[amazon_link asins='B077H8N7PP' template='ProductGrid' store='API-user-hdr' marketplace='US' link_id='5b2d5934-d7cf-11e7-afdd-8da79cfc84af']