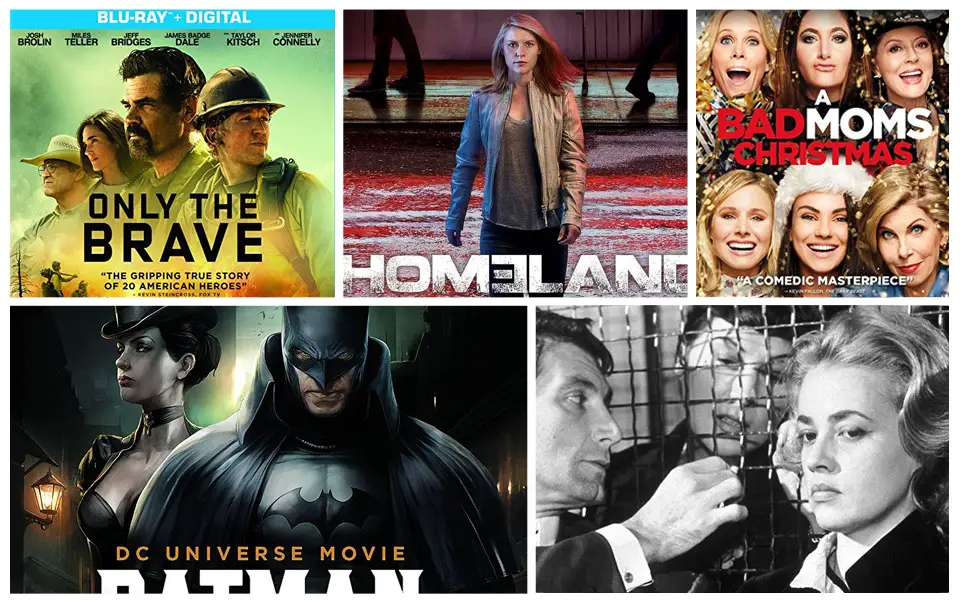 Here are our picks for the week on Blu-ray and 4k Ultra HD Blu-ray. First, if you're a Batman / DC Universe fan you might consider the animated feature DCU: Batman: Gotham By Gaslight that presents an alternative Victorian Age Gotham City where Batman goes after Jack the Ripper.
Only the Brave starring Josh Brolin, Miles Teller, and Jeff Bridges is now on Blu-ray and DVD from Sony Pictures. The film is based on the true story of a group of elite firefighters who risked their lives fighting the fire in Yarnell, Arizona in 2013.
And, as Homeland goes into its seventh season you can now pick up the sixth season on Blu-ray or DVD. The disc releases include all twelve episodes of Season 6 on a three-disc Blu-ray edition ($34.99) or four-disc DVD edition ($27.99) from 20th Century Fox.
Here are more of this week's new Blu-ray releases:
New on Blu-ray Disc, Feb. 6, 2018
TV
Homeland: Season 6
Taboo: Season 1
Movies
DCU: Batman: Gotham By Gaslight – Animated
Tales from Earthsea
Only the Brave
A Bad Moms Christmas
Friday The 13th The Ultimate Collection
Victor Crowley
LBJ
Day of The Dead: Bloodline
Accident Man
Tom of Finland
24 Hours To Live
The Sandlot (re-release)
Stratton
All I See Is You
Walking Out
The Stray
Henri-Georges Clouzot's Inferno
Battlecreek
Extraordinary Mission
Reset
Oldies
Pom Poko (1994) – Animated
Sinbad of the Seven Seas (1989)
The Aviator (1985)
Where the Boys Are '84 (1984)
The Wilby Conspiracy (1975)
The Way West (1967)
Diabolical Dr Z (1966)
Elevator to the Gallows (1958) – Criterion Collection
Along Came Jones (1945)
Collections
10 Cloverfield Lane / Cloverfield 2-Movie Collection
The Mummy Trilogy
Be sure to also check out last week's new Blu-ray and 4k Blu-ray releases.