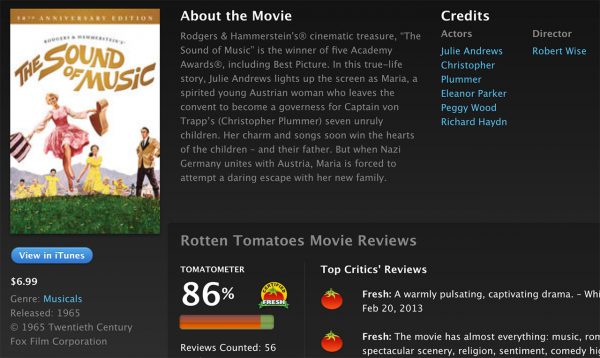 From time to time we like to post a special deal we may have found on digital movies from 20th Century Fox. Today only, The Sound of Music is available for only $6.99 in HD from iTunes. This is also the special 50th Anniversary Edition of the movie with over 13 hours of bonus material included with iTunes Extras.
The 5-time Academy Award-winning musical stars Julie Andrews as the spirited Maria, who leaves the convent to become governess for seven unruly children, eventually plotting an escape with her new family to avoid the invading Nazi Germany army.
The Digital HD copy of The Sound of Music is a 7.12GB download in Full HD (1080p) or 3.06GB download in SD (480p). The soundtrack, as with other Apple iTunes movies, is provided in Dolby Digital 5.1. Subtitles are provided in multiple languages.
Interested in this content? Get more Digital HD & Digital UHD news on our dedicated channels!