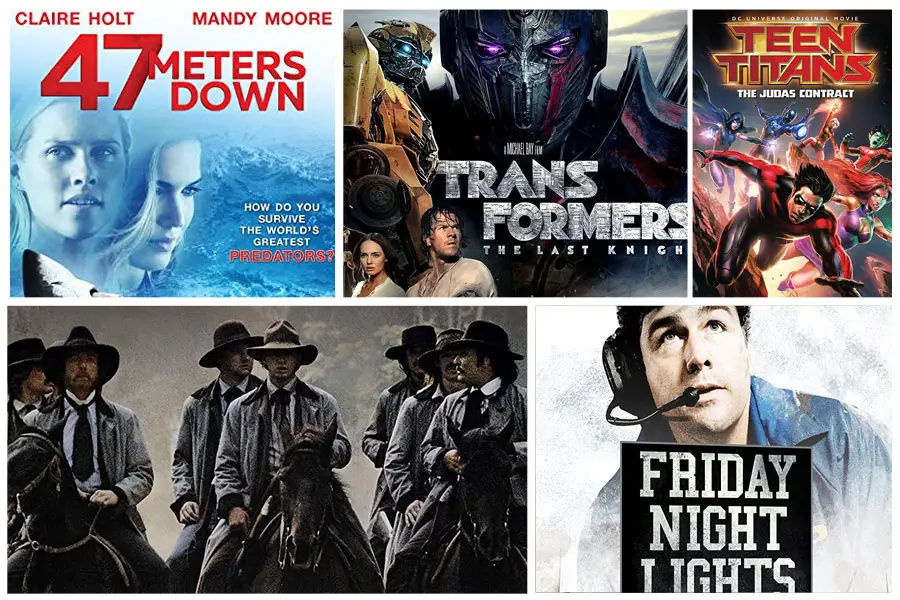 There are over seventy new Blu-ray titles this week (some of them re-releases), as well as a couple new 4k Blu-ray titles. To help you sort through them, here are our highlights for the week followed by a more extensive list of new releases.
Transformers: The Last Knight is likely the best seller this week, releasing to Blu-ray, 3D Blu-ray and 4k Ultra HD Blu-ray. The 3-disc combos from Paramount each include a bonus disc with 80 minutes of behind-the-scenes content and interviews, as well as a digital copy. Transformers: The Last Knight is selling for $19.99 (Blu-ray), $26.99 (3D Blu-ray), and $26.99 (4k Ultra HD Blu-ray).
Also on Blu-ray, Lionsgate's 47 Meters Down, the DC Universe release Teen Titans: Judas Contract, Criterion Collection's remastered The Piano Teacher (2001), and Kino Classics' remastered contemporary western The Long Riders (1980) from a new 4k restoration that includes new interviews with cast and crew.
From television there are several new Blu-ray releases to mention that include Longmire: The Complete Fifth Season, Shameless: The Complete Seventh Season, Taken: Season 1, and Friday Night Lights – The Complete Series in a boxed set from Mill Creek Entertainment with 13 discs.
New on Blu-ray, Sept. 26, 2017
4k Blu-ray
Transformers: The Last Knight
It's the Great Pumpkin, Charlie Brown
3D Blu-ray
Transformers: The Last Knight
Blu-ray
TV
Longmire: The Complete Fifth Season
Friday Night Lights – The Complete Series
Shameless: The Complete Seventh Season
Taken: Season 1
Movies
Transformers: The Last Knight
47 Meters Down
Teen Titans: Judas Contract
Transformers 5-Movie Collection
David Lynch: The Art Life
The Devil's Candy
Queen Of The Desert
Mune: Guardian of the Moon
It Stains the Sands Red
The Death of Louis XIV
OSS 117: Five Film Collection
2:22
Sky Captain and the World Of Tomorrow – Special Collector's Edition
Eurotrip
The Black Room
Stake Land Collection
K-19: The Widowmaker (2002)
The Score (2001)
The Piano Teacher (2001) – Criterion Collection
Waiting for Guffman (1996) – Warner Archive
John Carpenter's Escape From L.A. (1996)
Killer Barbys (1996)
The Nutty Professor (1996)
Wayne's World 2 (1993)
Wind (1992)
Flatliners – Special Edition SteelBook (1990)
The Dead Next Door (1990)
The Legend Of The Holy Drinker (1988)
Bride Of Re-Animator (1989)
After Midnight (1989)
The Princess Bride (1987) – 30th Anniversary
Fatal Attraction (1987)
The Devil's Honey (1986)
Friday the 13th Part 3 (1982)
Friday the 13th Part 2 (1981)
The Long Riders (1980)
Sgt. Pepper's Lonely Hearts Club Band (1978)
The Sailor Who Fell From Grace With the Sea (1976)
3 Days of the Condor (1975)
Death Wish (1974)
A Quiet Place In The Country (1968)
Dimension 5 (1966)
Cyborg 2087 (1966)
The Man Who Shot Liberty Valance (1962)
All the Sins of Sodom / Vibrations (1968)
The Black Room (1916)
SpaceCamp (1986)
Brigadoon (1954)