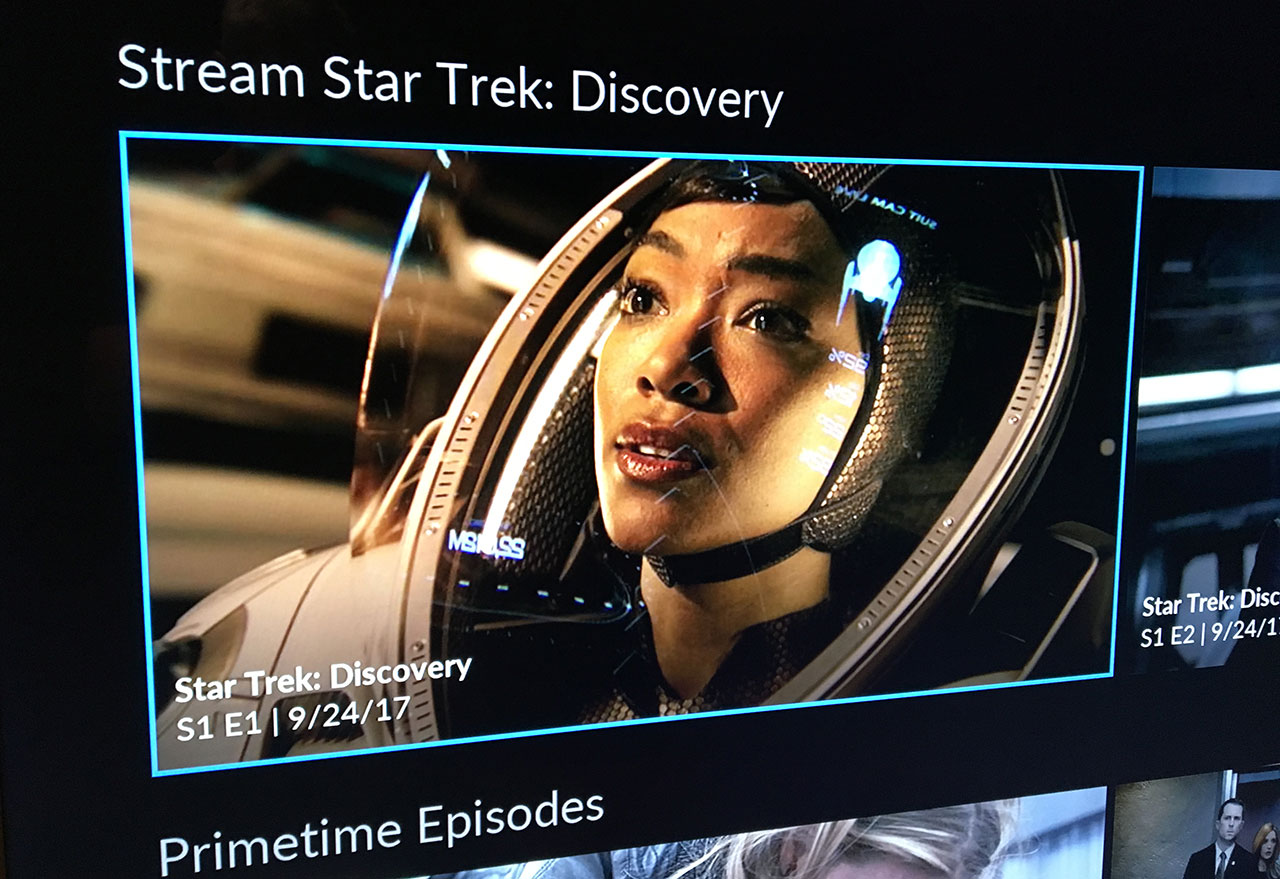 Star Trek: Discovery premiered on Sunday night, and from what we saw in the first two episodes the production value alone is well worth the $5.99 per month for CBS All Access.
The new series, which takes place ten years before the time of Kirk and Spock, brings a fresh look to the franchise with layers upon layers of visual effects, well designed new alien species, and outer space cinematography that holds up well even in 4k resolution (although a couple distance shots did look a bit like 2D paintings).
Discovery, without trying to give away any spoilers, begins by telling the story of how Starfleet makes contact with the Klingon society after 100 years of dissociation. The Klingons have been given a refreshed look, and there seem to be several sub-species of Klingons uniting in the plot of the first two episodes to set the stage for the season.
By the way, girls rule in Discovery. Michele Yeoh (Crouching Tiger, Hidden Dragon) was cast as starship Captain Philippa Georgiou, Sonequa Martin-Green (The Walking Dead) plays the role of First Officer "No. 1" Michael Burnham, and, Emily Coutts stars as ship helmsman Keyla Detmer, among other women credited in the series.
This isn't the first time Star Trek has showcased a woman captain (Kate Mulgrew played Captain Kathryn Janeway in Star Trek: Voyager), but it is the first time both the captain and first ranking officer are women.
Martin-Green steals the show in Episode 1 "The Vulcan Hello" and Episode 2 "Battle at the Binary Stars." We are immediately taken in to her cause, and feel empathy for her past and conflicts that arise from her Vulcan genealogy. Yeoh is convincing as Captain Georgiou, and plays more of a supporting character to Martin-Green even given her more extensive screen experience.
Together, those two characters drive the plot of the first two episodes, which have to be seen back-to-back (and can be by trying a free week of All Access if one doesn't already have a subscription). The episodes are really like a mini-movie, but the story arc and ending function more like a TV mini-series rather than self-contained episodes — as were many of the original Star Trek episodes.
The creators, Bryan Fuller, Alex Kurtzman, also spend a lot of time on the Klingons in the first two episodes. As a result, we don't just see them as bad guys but as a culture that has its own traditions and values, and so when a battle ensues one does feel some conflict about casualties on both sides.
There are extensive subtitles when the Klingons are speaking, and one might notice how large the text is compared to other shows with translations. This may be because show editors were considering the size of the screens Discovery will be viewed on, presumably laptops, tablets, and even smartphones, where smaller font sizes would be difficult to read.
With upcoming episodes of Star Trek: Discovery only available on the streaming service (excluding Netflix outside the US and CraveTV in Canada), CBS All Access is likely give the CBS-owned service a well-deserved boost in subscribers, although one can imagine a population of Trekkies that is disappointed the series isn't available on traditional TV.