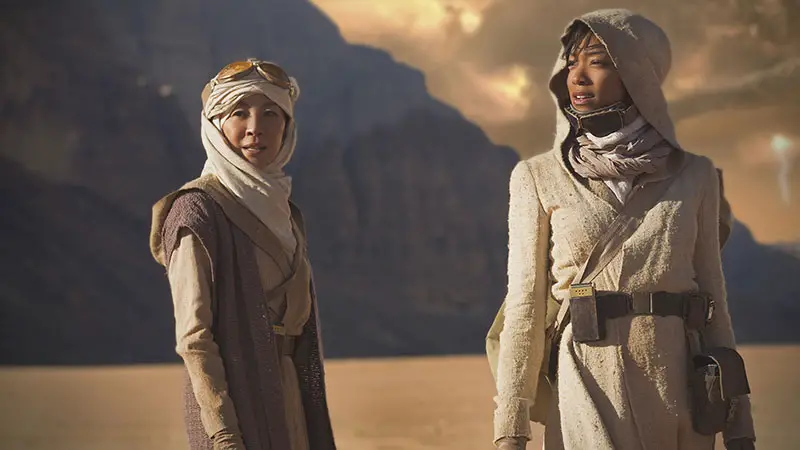 Star Trek: Discovery premieres Sunday night, Sept. 24th around the world and on several different platforms in what might be CBS's most widespread launch of a TV series. The show stars Jason Isaacs, Michelle Yeoh, and Sonequa Martin-Green among a large cast that take the series ten years before the original Star Trek stories took place.
Unlike the previous generations of Star Trek, however, only the first episode of Discovery will be available for free. CBS is hoping to use the series to invite new subscribers to pay for their monthly CBS All Access service that costs $5.99 per month. Here's where can you watch Star Trek: Discovery both the premiere and subsequent episodes.
CBS (traditional network)
The first episode of Star Trek: Discovery will be viewable everyone in the US that can view the traditional linear CBS network, available on cable TV, satellite TV, over-the-air using an antenna, and on any device that is able to stream the network through a TV service provider such as PCs, tablets, media players, and mobile devices.
CBS All Access (internet service)
As mentioned above Star Trek: Discovery is really being used as a tool for CBS to promote their standalone internet TV service CBS All Access. The service is one of the first of its kind and recently announced a streaming sports channel to compete with the likes of ESPN and FOX Sports. The CBS All Access service can be watched on multiple platforms including Apple and Android mobile devices, Amazon Fire TV, Android TV, Apple TV, Chromecast, Roku, PlayStation 4, Xbox 360, and Xbox One.
On Netflix (outside US)
Outside of the United States, excluding Canada, Netflix subscribers will be able to stream Star Trek: Discovery included in their monthly fee. Don't you wish you had a friend in Scandinavia?
In Canada
In Canada, Star Trek: Discovery will air on Bell Media's linear Space channel and over the internet on CraveTV.
How will you be watching Star Trek: Discovery? The show premieres at 8:30 p.m. ET/PT, 7:30 p.m. Central, although times may vary according country and service used.
Synopsis:
Ten years before Kirk, Spock and the Enterprise, the USS Discovery discovers new worlds and lifeforms as one Starfleet officer learns to understand all things alien.
Check out this recently released video that gives an inside look at the production of Star Trek: Discovery.