Not every new movie release is available in 4k, but each week there are at least a couple new Ultra HD Blu-ray discs to choose from. The new format plays only on Ultra HD Blu-ray players, and most titles feature improved color range with HDR and advanced audio playback with Dolby Atmos or DTS:X. Your TV and audio system must support these formats, but of course any 4k TV will display 2160p resolution from a 4k Blu-ray disc.
This month there are nine slated 4k Blu-ray releases, not counting exclusive Blu-ray editions from Best Buy and Target, the most exciting of which may be the release of Alien: Covenant and Guardians of the Galaxy: Vol. 2, both of which will have many special editions to choose from. King Arthur: Legend of the Sword, Snatched, Prometheus, The Lincoln Lawyer, Batman & Harley Quinn, and Baywatch are the other upcoming releases.
Here's a look at our top picks of the month, followed by the full list of upcoming Ultra HD Blu-ray discs in August. Don't forget to check our 4k Blu-ray pre-order page for the best prices!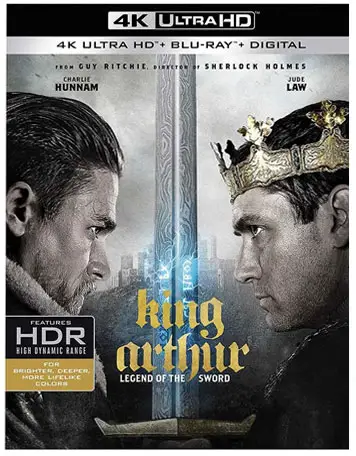 King Arthur: Legend of the Sword will release to Ultra HD Blu-ray , 3D Blu-ray and standard Blu-ray Disc combos on August 8, each with an extra disc and Digital HD copy. On 4k Blu-ray, the film is presented in 2160p resolution at 2.4:1 (16×9) aspect ratio with enhanced 10-bit color range via HDR10. The soundtrack is provided in Dolby Atmos or Dolby TrueHD 7.1. Extra bonus material from the Warner Bros. release includes the featurettes "Arthur with Swagger," "Sword from the Stone," "Parry and Bleed," "Building on the Past," and more. The combo does not include an iTunes file, but the UltraViolet code provided works with many digital redemption services. MSRP: $44.95
Alien: Covenant is one of the more exciting 4k Blu-ray releases especially given the exclusive editions from Best Buy, Target, and Walmart. The 4k release on Aug. 15 features 2160p video resolution enhanced with HDR color specs. And, the soundtrack can be played in Dolby Atmos or Dolby TrueHD 7.1 (depending on audio system), or Dolby Digital 5.1 in either Spanish or French. Extras include a Digital HD copy (hopefully that will redeem in UHD), a dozen deleted and extended scenes, featurettes "USCSS Covenant" and "Sector 87 – Planet," a documentary on the making of the film with Ridley Scott, commentary from Scott, and a production gallery. MSRP: $39.99 (the common edition)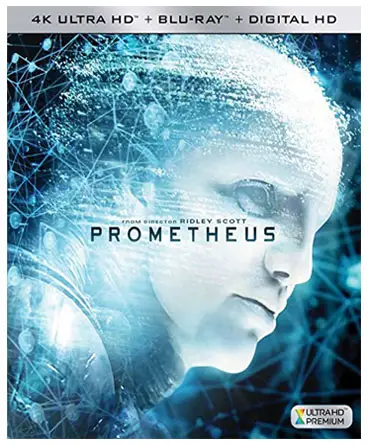 The prequel to Alien: Covenant, Prometheus was one of the best looking Blu-ray Disc releases of 2012. On August 15, the film will be available to purchase in Ultra HD Blu-ray, with 4-times the resolution of 1080p and HDR color enhancements. Unfortunately, this combo edition from 20th Century Fox doesn't include a 3D disc, but it does include a Digital Copy that we hope will provide a Digital UHD (4k) copy as well. Another downer may be that the soundtrack will likely not be upgraded to Atmos or DTS:X, simply because the film was originally presented in Dolby Surround 7.1. Extras will probably be the same as the last Blu-ray releases. MSRP: $39.99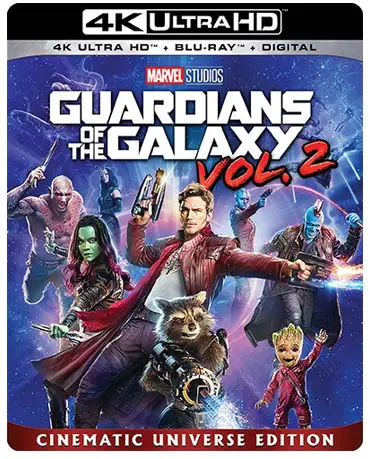 Guardians of the Galaxy: Vol. 2 is another 4k Blu-ray release to look forward to, but you might have some trouble deciding which exclusive retailer edition to choose from: Best Buy, Target or Walmart's version (questionable at this time). But, we do know the 4k Blu-ray release will feature High Dynamic Range (HDR) color through Dolby Vision and a soundtrack in immersive Dolby Atmos. Extras include "The Making of Guardians of the Galaxy Vol. 2," "Visionary Intro," "Guardians Inferno Music Video," gag reel, four deleted scenes, and audio commentary. MSRP: $42.99
New Ultra HD Blu-ray August, 2017
Aug. 8
King Arthur: Legend of the Sword
Snatched
Aug. 15
Alien: Covenant
Prometheus
The Lincoln Lawyer
Hickok
Aug. 22
Guardians of the Galaxy: Vol. 2
Aug. 29
Batman & Harley Quinn
Baywatch
[amazon_link asins='B0722H3X49,B073LF8C4K' template='ProductGrid' store='API-user-hdr' marketplace='US' link_id='65ee9131-763f-11e7-b9e9-fd787dd42254′]