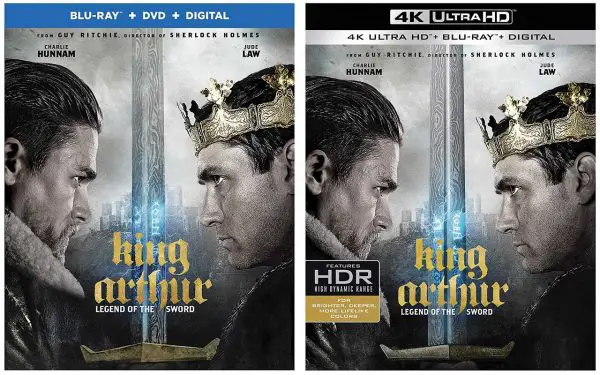 Order King Arthur: Legend of the Sword on Blu-ray, 3D Blu-ray, or Ultra HD Blu-ray.
Synopsis:
Directed by Guy Ritchie,King Arthur: Legend of the Sword stars Charlie Hunnam, Astrid Bergès-Frisbey, and Jude Law in this tale of the legend of King Arthur based on the story by David Dobkin and Joby Harold.
Release Date:
August 8th, 2017.
Special Features:
Arthur with Swagger – Charlie Hunnam is a gentleman, a hunk and a rebel, setting new standards as king and new rules with the ladies.
Sword from the Stone – Director Guy Ritchie as he breathes 21st Century life and luster into England's most iconic legend and he creates Camelot for a new audience!
Parry and Bleed – Charlie Hunnam and other cast members get a crash course in swordplay. Vikings versus Saxons style!
Building on the Past – Londinium comes to life with a new design of Medieval Urban life, built from scratch.
Inside the Cut: The Action of King Arthur – Join stunt choreographer Eunice Huthart as she teams with Director Guy Ritchie to create the mind-blowing action of King Arthur
Camelot in 93 Days – Friendships and romances strengthen and fray as the realities of a 93 day shoot set in.
Legend of Excalibur – The world's most famous sword is brought to life for a new generation.
Scenic Scotland – Wrapping a monumental production on location in glorious Scotland.