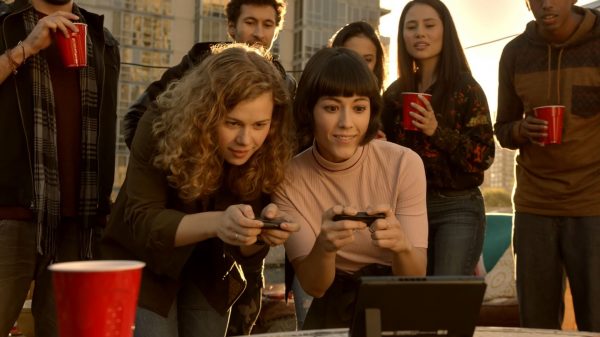 GameStop recently ran a promotion that allowed 1,000 lucky fans to pre-order the sold-out Nintendo Switch from their local stores.
No wait…that doesn't sound right. Let's try this:
GameStop recently ran a "promotion" that allowed for 1,000 "lucky" fans to pre-order the "sold-out" Nintendo Switch from their local stores.
Ah, that's more like it.
Yes, as we approach the launch of another Nintendo console we are once again confronted with yet another shortage of said Nintendo consoles. While it hasn't been quite as painful for people to get their hands on a Switch as it was for them to secure an NES Classic Edition last year, many have still had to resort to waiting lists, person-to-person retail, or promotions like the one described above if they want to even have the opportunity to purchase a Switch at launch.
On the surface, there's nothing too unusual about that. Popular electronic devices are almost always hard to get when they first launch meaning that only those who bought in early are able to get the first wave of releases.
The problem with Nintendo's shortages, though, is that they seem to happen an awful lot. It feels like there's been a shortage of every Nintendo console since the Nintendo Wii. What's really strange about these shortages is how long they go on for. Right now, for instance, it's still very difficult to purchase certain models of the Nintendo 3DS, and it has been that way since before the start of the last holiday season.
The sheer frequency of these occurrences has led people to believe that either Nintendo is very bad at predicting how many units of a particular device they will need or they simply say there is a shortage in order to build hype for their latest release.
While only Nintendo knows the answer to that, it's honestly starting to feel like the answer is somewhere in the middle. Consoles like the Nintendo Wii were certainly so popular at one point that they were nearly impossible to find, but it just doesn't make any sense for Nintendo to claim a long-term shortage of their devices when one doesn't exist. After all, why would they generate hype with a shortage but not restock store shelves for the holiday season?
In the case of the Nintendo Switch, it feels as if Nintendo waited too long to end production of the Nintendo Wii U and use that console's manufacturing lines to make the Switch. In any case, don't be too surprised if there are suddenly quite a few Nintendo Switch consoles on store shelves (both digital and physical) over the next couple of months.