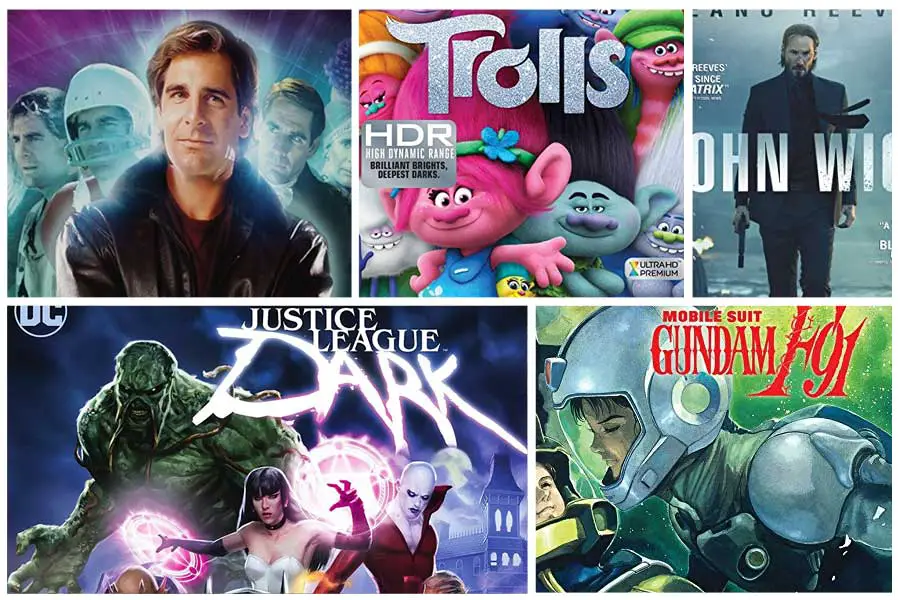 Want to know what's new on Blu-ray this week? DC's Original Movie Justice League: Dark is one of the hottest titles but unfortunately out of stock already on Amazon (check Best Buy & Target). The combo edition (with some of the best box art we've seen) comes with a Blu-ray, DVD and Digital HD copy through UltraViolet. Video on the BD is formatted in 1080p at 1.78:1 aspect ratio, backed by a DTS-HD Master Audio 5.1 soundtrack. The title is also available in several exclusive editions with figurine (Best Buy), Steelbook packaging (Target), and Deluxe Edition with figurine. Price: $16.99 (standard Blu-ray combo)
Several boxed television shows are available this week including complete series of Quantum Leap and Penny Dreadful, From Dusk Till Dawn Season 3, Vice Principals Season 1, and episodes 1-25 of the anime series Turn A Gundam.
And, we've got a couple new 4k HD Blu-ray titles this week including the re-release of John Wick (2014) and the new release Trolls both on UHD BD with 2160p resolution and HDR (High Dynamic Range) specifications.
New on Blu-ray Feb. 7, 2017
TV Series
Quantum Leap: The Complete Series
Penny Dreadful: The Complete Series
From Dusk Till Dawn: The Series – Season 3
Vice Principals: The Complete First Season
Turn A Gundam Collection (Episodes 1-25)
Movies
Justice League: Dark
John Wick (UHD Blu-ray)
Trolls (UHD & Blu-ray)
Dirty Dancing: 30th Anniversary Collector's Edition
Taken 3-Movie Collection
Die Hard 5-Movie Collection
Loving
Mobile Suit Gundam F91
King Kong – Ultimate Edition
Almost Christmas
Desierto
The Take
The Eagle Huntress
American Pastoral
Wild Beasts
Frank & Lola
The 9th Life Of Louis Drax
The Mummy (1999)
The Mummy Returns
Cameraperson – Criterion Collection
Classics
Love in the Afternoon (1957) – WB Archive Collection
No Highway in the Sky (1951)
What a Way to Go (1964)
Guess Who's Coming to Dinner (1967) – 50th Anniversary
Sicilian Clan (1969)
Prince of Foxes (1949)
King Kong (1933)
Get more Blu-ray and Ultra HD Blu-ray news.