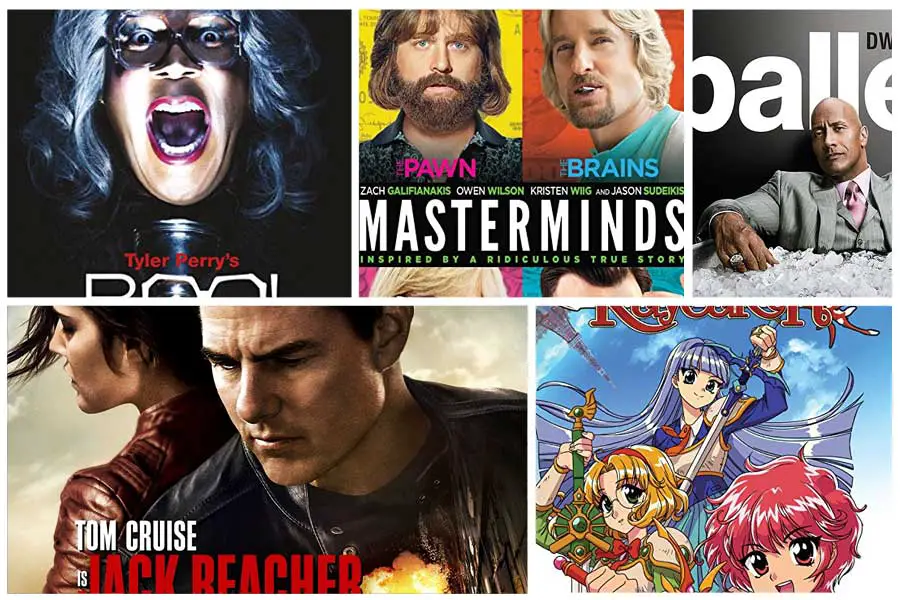 It's Tuesday again and time for a look at this week's new Blu-ray & 4k Blu-ray releases!
Paramount Home Media has made Jack Reacher: Never Go Back (2016) now available in several disc formats including Blu-ray, 4k Blu-ray, and DVD. The Blu-ray combo editions feature a Dolby Atmos soundtrack and plenty of extras adding up to over 80 minutes of content, as well as a Digital HD copy of the film redeemable with UltraViolet. For a limited time, those who purchase the Blu-ray Combo Pack will also get an exclusive illustrated version of Lee Child's short story "Everyone Talks." Price: $19.99 (Blu-ray) $29.99 (4k Blu-ray)
Tyler Perry's Boo! A Madea Halloween (2016) is a "treat" for anyone who likes comedic horror films. Lionsgate has released a 1-disc Blu-ray edition that also comes with a Digital HD copy from UltraViolet and the two featurettes "Why We Love Madea!" and "Boo! From the Crew Montage." Price: $19.99 (Blu-ray) Tyler Perry's Madea on the Run (2015) has also been released to Blu-ray with Digital HD copy and sells for $14.99.
The second season of Stephen Levinson's HBO series Ballers is now available in
Blu-ray and DVD formats, both of which include a Digital HD copy (yes, even the DVD) through UltraViolet (sorry, no iTunes). The 2-disc Blu-ray combo includes a DTS-HD Master Audio 5.1 soundtrack along with the bonus content "Inside the Episode" with play-by-play on all 10 episodes and interviews with executive producer Evan Reilly, star Dwayne Johnson and others. Price: $19.99 (Blu-ray)
New on Blu-ray Disc, Jan. 31, 2017
Movies
Jack Reacher: Never Go Back
Tyler Perry's Boo! A Madea Halloween
Tyler Perry's Madea on the Run
Masterminds
Parents
Lair Of The White Worm (1988)
Poltergeist II: The Other Side (1986)
Poltergeist III (1988)
Bells are Ringing (1960)
Love Camp 7 (1969)
Barbie: Video Game Hero
The Wax Mask (1997)
The Black Dragon's Revenge – Special Edition (1975)
Game of Thrones: The Complete Fifth Season – Standard Edition – Steelbook
TV
Masterpiece: Victoria
Magic Knight Rayearth Complete Collection
Ballers: The Complete Second Season
Anime
Fate / Kaleid Liner Prisma Illya 2we Herz