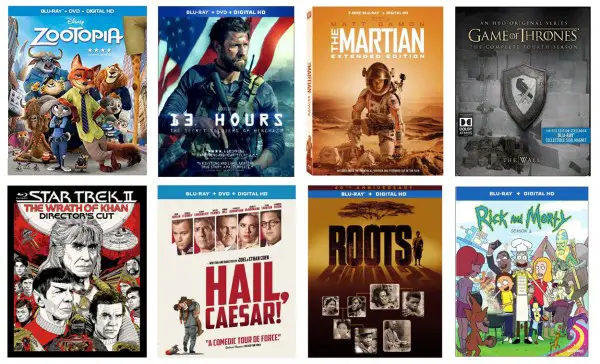 Want to know what to buy on Blu-ray this week? We scanned through the large selection of new Blu-ray titles for June 7th to come up with 8 top picks.
One of the most popular releases this week, Walt Disney Animation Studio's Zootopia is now available in a 2-disc combo that includes a Blu-ray Disc, DVD, and Digital HD copy.
The highly-anticipated 13 Hours: The Secret Soldiers of Benghazi has hit stores on Blu-ray Disc from Paramount Home Media in a 2-disc combo that also comes with copies on DVD and Digital HD.
HBO's Game of Thrones Season 3 & 4 have been released to special Steelbook package editions with a Collectible Sigil Magnet and audio presented in Dolby Atmos.
The Director's Cut of Star Trek II: The Wrath of Khan (1982) celebrates the 50th anniversary of the Star Trek franchise and comes with a new documentary and over two hours of bonus material.
Roots: The Complete Original Series has been digitally remastered for release on Blu-ray and the special edition from Warner Home Video includes special features, bonus content, and a 32-page book.
Rick and Morty: The Complete Second Season presents all ten 22-minute episodes of the animated series from the 2015 season in a 1-disc edition from Warner Home Video that also includes digital copies.
20th Century Fox has added 10 minutes of new footage and over two hours of behind-the-scenes content for The Martian: Extended Edition that comes with two Blu-ray Discs and a Digital HD copy.
And, the comedy Hail, Caesar! from Universal Studios Home Entertainment can be purchased in a 2-disc edition with Blu-ray, DVD, and Digital HD copies.
Today's Blu-ray releases also include several titles on Ultra HD Blu-ray optimized for 4k TVs. Check out this article with more details on new 4k Blu-ray movies.