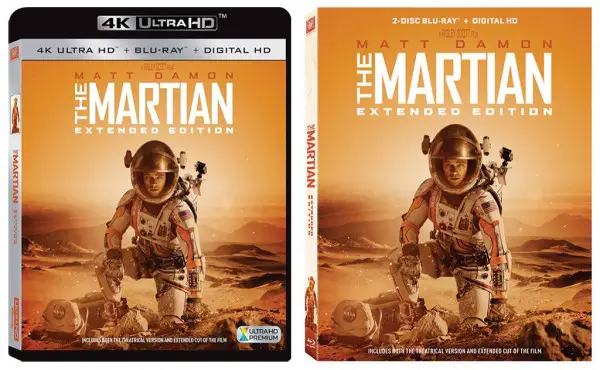 20th Century Fox's seven-time Oscar-nominated film The Martian will release to an Extended Edition on Digital HD, DVD, Blu-ray, and Ultra HD Blu-ray on Tuesday, June 7th. The Extended Edition includes 10 minutes of new footage not seen in theaters, as well as over two hours of behind-the-scenes content. Both the Blu-ray and Ultra HD Blu-ray editions include a Digital HD copy of the film, although we're not sure if the digital copy will be available or upgradeable to Digital UHD (4k).
New bonus content features audio commentary from director Ridley Scott, writer/executive producer Drew Goddard, and novelist Andy Weir. A documentary titled "The Long Way Home: Making the Martian" explores the science behind recreating Mars is included. And, the Extended Edition includes interviews with NASA specialists and engineers, and a NASA panel discussion about the planned journey to mars.
The new Ultra HD Blu-ray edition features video encoded in H.265 at 2160p resolution. English audio tracks are available in DTS-HD-Master Audio 7.1 and Dolby Digital 5.1. And, both Blu-ray editions include the theatrical cut of the film.
The Martian Extended Edition New Bonus Content:
Audio Commentary by Ridley Scott (Director), Drew Goddard (Writer, Exec Producer) and Andy Weir (Author of The Martian)
Deleted Scenes
The Long Way Home: Making the Martian
Dare Mighty Things: NASA's Journey to Mars
Journey to Mars 101 Q & A