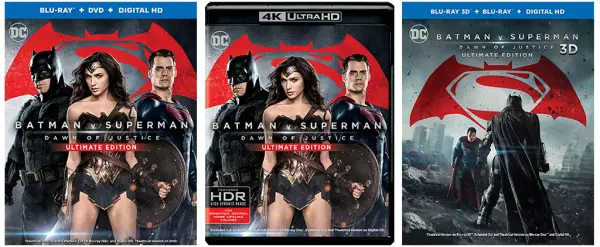 Batman v Superman: Dawn of Justice may not have turned out exactly how Warner Bros. wanted it to, but the addition of 30 minutes to create an Ultimate Edition of the film sure makes it look more appealing as a home media release. And, the extended edition from Zach Snyder will include the mystery character played by Jena Malone (Contact) among other possible characters cut from the theatrical version.
It should be noted, however, that the already dark film gets an R-rating with the Ultimate Edition — no doubt because of strong violence. In total, the Ultimate Edition will run 182 minutes as opposed to the theatrical edition at 151 minutes. The BD and DVD releases will also pack eleven bonus pieces of content.
Batman v Superman: Dawn of Justice Ultimate Edition will be available in several disc editions (as well as retailer-exclusive editions) including an Ultra HD Blu-ray Combo Pack, Blu-ray Combo Pack, Blu-ray 3D Combo Pack, and two-disc DVD. The Blu-ray releases will all insert a code to redeem a digital copy of the film via UltraViolet.
But the discs will follow the early Digital HD release of 'Dawn of Justice' by 3 weeks. And, what's nice is the Digital HD release will also include both the theatrical and Ultimate Editions of the film.
The Blu-ray editions will all feature audio in Dolby Atmos for systems that support the format, but will downsample to the highest audio quality available. Video will either be in 1080p (Blu-ray, 3D Blu-ray) or 2160p (Ultra HD Blu-ray), and the 4k edition will feature HDR-specified video as with some other Warner Bros. Ultra HD Blu-ray releases.
In any case, if you're looking for the release dates for Batman v Superman: Dawn of Justice Ultimate Edition it will first be available in Digital HD on June 28th, and on Blu-ray Disc July 19th.
Ultra HD Blu-ray, Blu-ray 3D, Blu-ray, & DVD Bonus Features:
Uniting the World's Finest
Gods and Men: A Meeting of Giants
The Warrior, The Myth, The Wonder
Accelerating Design: The New Batmobile
Superman: Complexity & Truth
Batman: Austerity & Rage
Wonder Woman: Grace & Power
Batcave: Legacy of the Lair
The Might and the Power of a Punch
The Empire of Luthor
Save the Bats