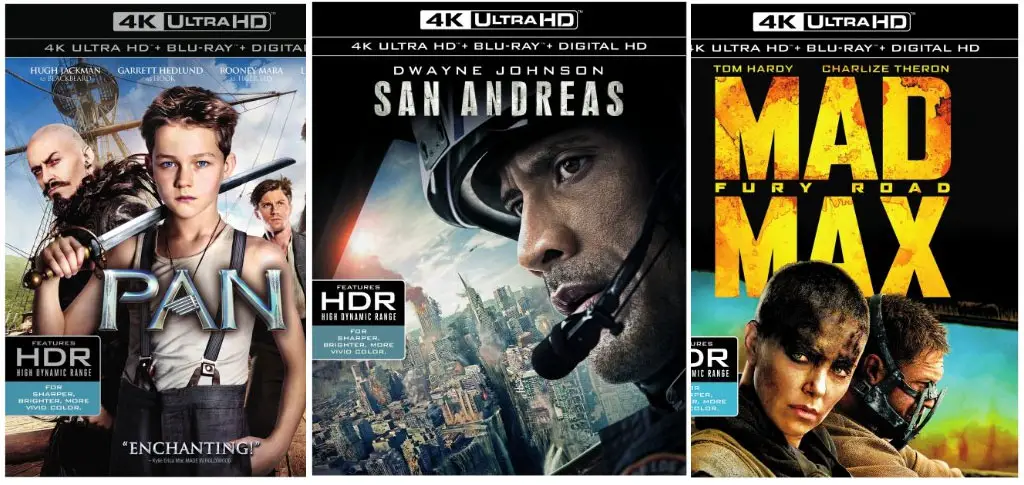 Warner Bros. has officially announced their first batch of Ultra HD Blu-ray titles for 4k TVs. The UHD BDs will be available in stores on March 1st, starting with four blockbuster movies that will carry a suggested retail price of $44.95 each.
Mad Max: Fury Road, Pan, San Andreas, and The Lego Movie will be the first Blu-ray titles made to display on 4k TVs with approximately 4,000 pixels (four-times the resolution of conventional Blu-ray Discs). And, the new Blu-ray format includes support for High Dynamic Range (HDR) content and Dolby Atmos audio.
The introduction of the Ultra HD Blu-ray format comes when 4k UHD titles are just beginning to pop up on video services such as Vudu, and it's becoming more common place to stream titles from Netflix and Amazon Video in Ultra HD.
But don't expect to bring home one of these new-fangled 4k discs and play it on your existing Blu-ray Disc player. Nope. You'll need to purchase a new Ultra HD Blu-ray player to enjoy the high quality these discs bring, and, those players are not yet on the market.
Samsung will start shipping the UBD-K8500 Ultra HD Blu-ray Disc player sometime in March, and Panasonic promises their DMP-UB900 UHD BD player will be available sometime this year. Philips also introduced their BDP7501 UHD BD player at CES 2016. As of this article, if you see any Blu-ray players labeled 4k Ultra HD it probably means it only does upscaling to 4k – not the same thing.
They'll also be a lot more expensive than current disc players, as most new technology is, selling for about $400.
Sony, Lionsgate, and 20th Century Fox also have Ultra HD Blu-ray titles releasing soon.
Related: More Ultra HD Blu-ray Titles Coming from Warner Bros.