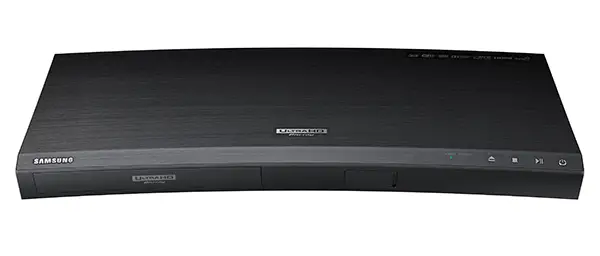 Samsung has revealed their first Ultra HD Blu-ray Player capable of playing Ultra HD Blu-ray Discs at four times the resolution of today's conventional Blu-ray player, and, its design mimics that of Samsung's Curved UHD Smart TVs such as the JU7500, JU750D, and JU670D series.
The UBD-K8500 Ultra HD Blu-ray player also displays images at 64 times higher color expression than conventional BD players, supports HDR content on Ultra HD Blu-ray discs, and renders fast moving video at 60 frames per second.
The Ultra HD Blu-ray also incorporated upscaling technology, so content from standard Blu-ray Discs and DVDs will be improved for display on an Ultra HD TV.
The UBD-K8500 is currently available to pre-order from Samsung.com for $399.99 (that's $100 off the list price of $499.99), and will begin shipping in March, 2016.
20th Century Fox plans to release more than one hundred 4K Ultra HD Blu-ray discs this year, with HDR image enhancements, including titles such as Peanuts and The Martian.
Get more news on Ultra HD Blu-ray on our dedicated channel.