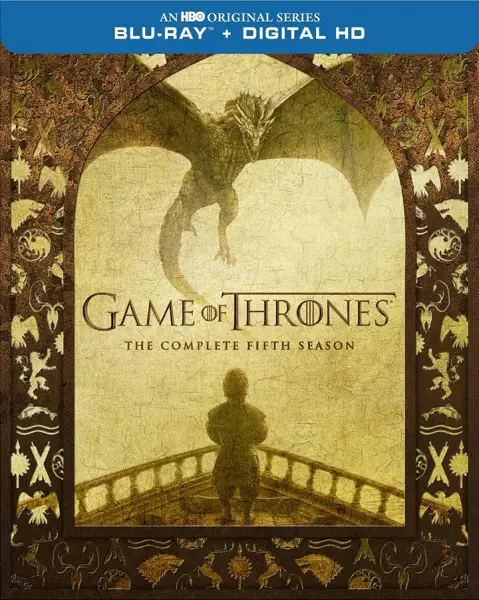 If you want to get ready for the next season of Game of Thrones there is no better way than to re-watch the past season in its entirety. HBO's fifth season of GOT will release to Blu-ray on Tuesday, March 15th, and although the season and some bonus content has already been released to digital format, the Blu-ray edition packs 4 highly-anticipated deleted scenes and additional unreleased extras.
Game of Thrones: The Complete Fifth Season includes the exclusive Blu-ray feature "The Dance of the Dragons" with a history of the Targaryen civil narrated by the show's characters, an "In-Episode Guide" with background information on the season, and a "Histories & Lore" component.
Other bonus features include "Anatomy of an Episode: Mother's Mercy," "The Real History Behind Game of Thrones" told by historians and George R.R. Martin, the 26-minute featurette "A Day In The Life" (previously available in digital). and a 7-minute "New Characters/New Locations" feaurette (previously available in digital).
12 audio commentaries from the cast and crew provide more insight into the season, from writers David Genioff and D.B. Weiss, as well as actors Peter Dinklage, Lena Headey, and Kit Harington among others.
Approximate run-time of Game of Thrones: The Complete Fifth Season is 559 minutes. The Blu-ray Discs are formatted in 1080p at 16:9 (1.78:1) aspect ratio with an English Dolby Atmos soundtrack (compatible with Dolby TrueHD 7.1).
The 4-disc Blu-ray edition from HBO also includes Digital HD copies of the episodes redeemable with either Apple iTunes or UltraViolet.
Game of Thrones: The Complete Fifth Season is currently priced to pre-order at $39.99 (MSRP $79.99).