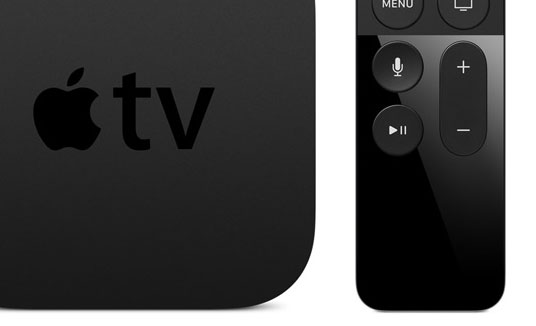 After Apple's last event we found ourselves asking "Why should we buy the new Apple TV?" For one, it doesn't support 4k video. Secondly, Apple didn't really meet our expectations of a new internet-delivered TV experience (even though Tim Cook calls the current state of television "terrible and broken"). And thirdly, the new Apple TV is considerably more expensive than the 3rd-generation model.  (Which brings up the question, if Apple is banking on selling content (videos, music, apps, games, etc.), why make the device itself so much more expensive than Amazon's Fire TV?)
Apple's new 4th-generation Apple TV will be available to order on Monday, October 26th. And while there is plenty of hype about the new media player and platform, are the features deep enough to upgrade or buy an Apple TV for the first time?
Lack of 4k video support
The new Apple TV only has HDMI 1.4, which means it will not support 4k Ultra HD video (requiring HDMI 2.0) or HDR content (requiring the HDMI 2.0a firmware update). Both the new Fire TV and Roku support 4k (although not HDMI 2.0a out-of-the-box), and, the Roku even supports 4k video at a smooth 60 frames-per-second.
Remote Control
The new remote control that comes with the Apple TV is certainly an improvement over the current remote, with a touch screen, Bluetooth 4.0, motion control, and voice commands with Siri. Given those features, the new "Siri Remote" is far more advanced than the Apple Remote that may have outgrown its simplicity a long time ago.
Storage
Storage configurations are available in either 32GB or 64GG, both of which are more than Fire TV (8GB) and Roku (unconfirmed, but likely very limited given the Roku 3 only has 256MB), although storage can be expanded via microSD slots. What's interesting to note is the new Apple TV still doesn't have as much storage as the 1st-gen Apple TV with a 40GB or 160GB hard drive from back in the day (2007) when cloud-computing wasn't as advanced and local storage of movies and other media was essential.
Gaming
If you want to play games on Apple TV, the new model may be for you. Gaming took up much of the presentation of the new Apple TV at the announcement event; Hipster Whale's "Frogger" rip-off "Crossy Road" can be played using the new remote's touch screen (a new multi-player version was also announced), and Harmonix introduced their motion-controlled "Beat Sports" music-driven games for Apple TV.
Audio
The new Apple TV will support Dolby Digital 7.1 (supporting 7-channel surround sound), a nice improvement over the 2013 Apple TV that only supports Dolby Digital 5.1. Audiophiles may find this reason enough to buy the 2015 model, although not all movies are coded with 7.1 channel audio.
tvOS
Apple's iOS serves as the foundation for tvOS, a new platform that will allow third-party apps and games, as well as a multi-layered TV experience that has not yet been defined. The OS will also be integrated with HomeKit accessories.
Price
The 4th-generation Apple TV will sell for $149 with 32GB storage, and $199 with 64GB of storage. Both configurations are more expensive than the new Amazon Fire TV ($99) and Roku 4 ($129).
Advice
Should you buy the new Apple TV? If you're someone who just uses Apple TV to watch movies purchased from iTunes, or stream movies and TV shows from Netflix or Hulu, the new Apple TV is not really going to change those experiences dramatically, with the exception of 1080p video streaming smoother at 60fps, and sound quality improved to 7.1 channel with movies and shows that support it.
Consider also, the new Apple TV with 32GB will be $80 more than the 3rd-gen model that currently sells for $69. Is $80 worth 60fps, Dolby Digital 7.1, more storage space, a faster processor, a touch remote that can be used for gaming, the promise of more apps and app store, a new TV experience, and home integration with tvOS? That all depends on an individual's expectations of what the Apple TV will be used for.
One community may be very interested in getting the new Apple TV, and that is app and game developers. Apple has already asked developers via email to submit their tvOS apps ahead of next week's launch, but distribution of early units was very limited, which means there will be less apps to choose from upon launch than there could have been.