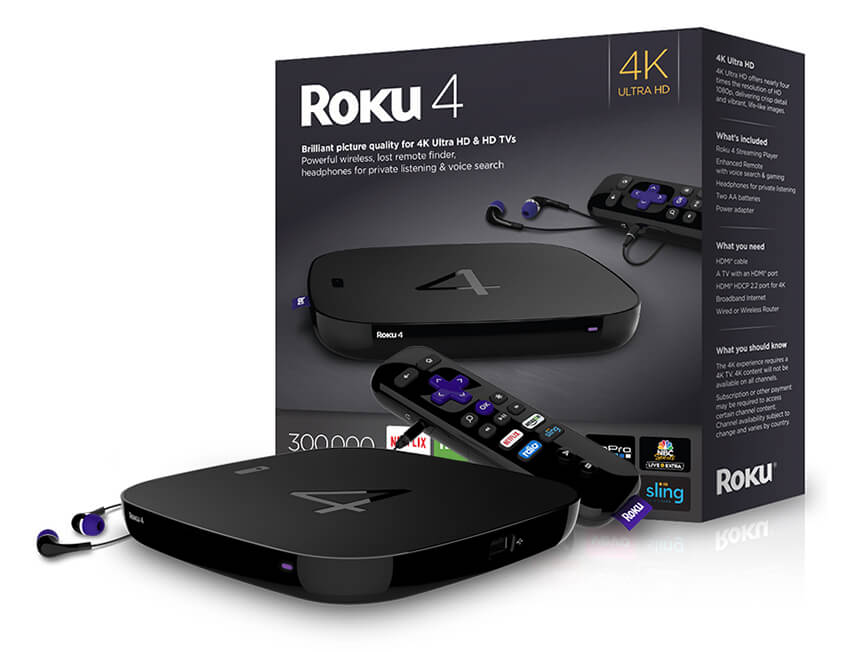 Roku has started taking pre-orders on the Roku 4, the company's next-generation streaming media player that supports 4k Ultra HD video delivered via internet apps. Shipping on October 21st, the Roku 4 plays HEVC (H.265) video up to 3840 × 2160 resolution at 60 frames-per-second on 4K UHD TVs that support the high frame rate.
As far as HDR (High Dynamic Range), the Roku 4 comes with HDMI 2.0 (allowing 4k/60fps video) but is not spec'd to support the format. The question would be whether or not the HDMI firmware in the Roku 4 can be updated to HDMI 2.0a (the standard for HDR) since the new spec doesn't require cable or port replacement. If so, it sure would be nice to stream HDR from Vudu when select titles are released in the format.
In addition to 4k support, the Roku 4 adds some nice bonus features to the player including a remote control finder. You simply push a button on top of the Roku 4 player and the remote control will sound an alert. Continuing the features of the remote with Roku 3, users can use voice search, plug headphones into the side of the remote, and use it as a game controller.
For connectivity the Roku 4 includes support for Wi-Fi 802.11ac MIMO dual-band as well as 10/100 Base-T Ethernet.
And, the Roku 4's storage can be expanded with a microSD card port, as well as a USB port for viewing your own files (see supported 4k media formats below).
At $129, the Roku 4 will be slightly more expensive than the Roku 3 and Amazon's Fire TV (both priced at $99), however, it's less expensive than Apple's new player that will cost $149 (32GB) or $199 (64GB) that doesn't support 4k.
In other streaming media player news, Amazon will no longer be selling Apple TV and Chromecast in a move to sell their own Fire TV devices. What makes this interesting is that Amazon's real competitor is probably Roku 4, given the device's support for 4k.
Roku 4 Video Ouput:
Up to 4K UHD (3840 × 2160) on 4K UHD TVs
Up to 1080p HD (1920 x 1080) on HD TVs
Up-scales 720p to 1080p HD on 1080p HD and 4K UHD TVs
Up-scales 1080p HD to 4K UHD on 4K UHD TVs
USB Supported Media:
4K UHD 60 fps HEVC Playback
4K UHD 30 fps VP9 Playback (YouTube)