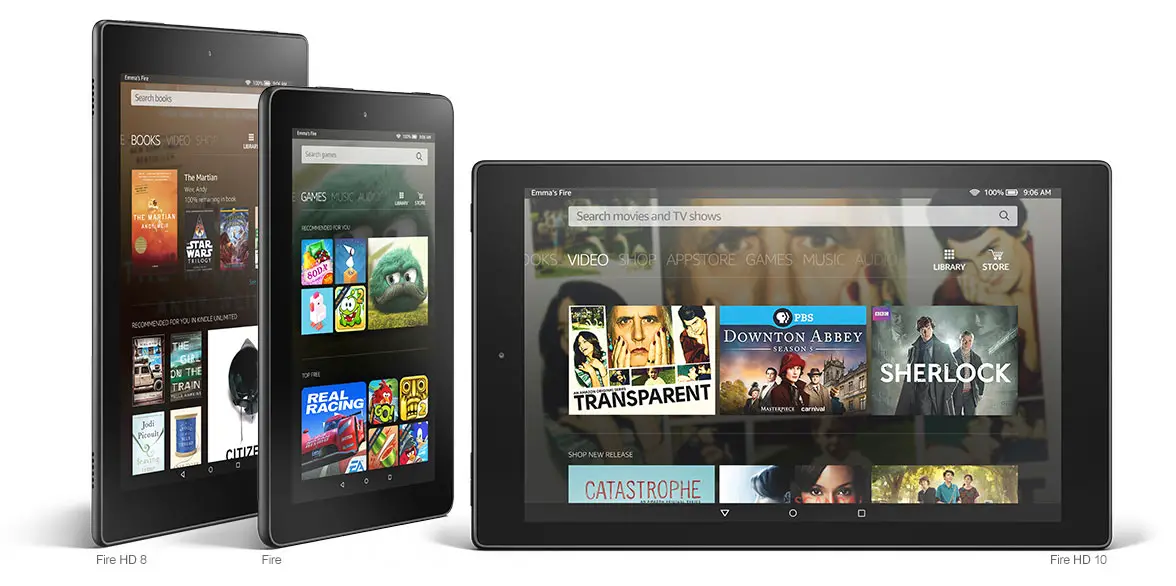 Amazon's new $49.99 Fire tablet was a hot topic in tech last week, that along with the announcement of an upgraded Fire TV player that streams 4k. The new tablet is so inexpensive, how could you not pick one up even if just to try out? Amazon is even offering a six-pack of Fire tablets for $250 (a great deal if you've got a family of six), in which you actually get one free.
But rather than compare the $50 tablet to a different brand, especially given the tablet represents a new standard in pricing, let's compare it to Amazons' upcoming top-of-the-line Fire HD 10 tablet that starts at $229 for the base configuration.
Screen Size
First off is screen size. The $50 Fire has a 7" screen as opposed to the Fire HD 10 with 10.1" screen. Three inches on a tablet can make a huge difference, especially if watching movies, working on spreadsheets, or attempting to use multiple windows.
Resolution
The $50 Fire has slightly less resolution at 1024 x 600 (171 ppi) versus the Fire HD 10 with 1280 x 800 (149 ppi), but with higher pixel density.
Processor
Both Fire tablets have a quad-core processor, but the Fire HD 10 reaches processing speeds up to 1.5 Ghz versus 1.3 Ghz.
Storage
Both tablets can expand storage up to 128GB via SD card, but the Fire HD 10 comes with either 16GB or 32GB depending on configuration.
Audio
The Fire tablet only brings mono audio through its one speaker, while the Fire HD 10 has dual stereo speakers and supports Dolby Atmos.
Camera
The Fire HD 10 has a better 5MP rear-facing camera that records up to 1080p video. The Fire tablet only records 2MP at up to 720p video.
Wi-Fi
The Fire HD 10 has better Wi-Fi connectivity, with dual-band Wi-Fi a/b/g/n/ac versus the Fire tablet which only has Single-band Wi-Fi b/g/n. Still though, this isn't a deal breaker.
Size and Weight
The smaller Fire tablet is 7.5" x 4.5" at eleven ounces, while the larger tablet is 10.3″ x 6.3″ at 15.2 ounces.
Should you buy?
Why not? For $49.99 you can't go wrong. It's clear Amazon is betting on selling content for the device. And, if you grow out of the entry level model you can always upgrade and all your Amazon content will easily transfer to a new model. By the way, Amazon provides unlimited cloud storage for any of the Fire tablets, so the storage space really isn't a factor for any model if you're purchasing mostly within the Amazon environment.
Amazon Fire vs. Fire HD 10 tablets compared:
| | | |
| --- | --- | --- |
| Model | Fire tablet | Fire HD 10″ |
| Price | $49 | Starts at $229 |
| Screen Size | 7″ | 10.1″ |
| Resolution | 1024 x 600 (171 ppi) | 1280 x 800 (149 ppi) |
| Processor | Quad-core 1.3 GHz | Quad-core up to 1.5 GHz |
| Audio | Mono speaker | Dual stereo speakers, Dolby Atmos |
| Storage | 8 GB (expandable by up to 128 GB) | 16 or 32 GB (expandable by up to 128 GB) |
| Cameras | VGA Front-facing camera + | 720p HD Front-facing camera + |
| | 2 MP rear-facing camera with | 5 MP rear-facing camera with |
| | 720p HD video recording | 1080p HD video recording |
| Connectivity | Single-band Wi-Fi b/g/n | Dual-band Wi-Fi a/b/g/n/ac |
| Battery Life | Up to 7 hours of reading, | Up to 8 hours of reading, |
| Weight | 11.0 oz (313 g) | 15.2 oz (432 g) |
| Dimensions | 7.5" x 4.5" x 0.4" | 10.3″ x 6.3″ x 0.3″ |
| | (191 x 115 x 10.6 mm) | (262 x 159 x 7.7 mm) |