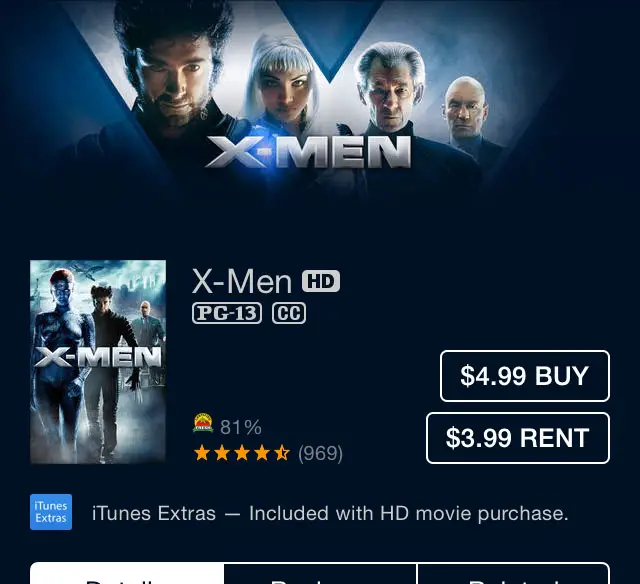 Here's a nice daily deal from iTunes. Today only, you can get X-Men in Digital HD for just $4.99. That's a discount of $10 off the regular price of $14.99. The purchase also includes iTunes Extras, with extended and deleted scenes, as well as special featurettes. [Note: This deal is expired.]
You can also rent the movie for $3.99, but why would you when you could own it for just a buck more?
The Full HD (1080p) X-Men file from iTunes is a 4.24 GB download, while the smaller 720p version is a 3.87 GB file that can can also be streamed to save hard drive space.
Keep in mind iTunes is running on Eastern Time, so Midnight ET is when this daily deal expires.
From Marvel:
"When teenage mutant Rogue's mutant abilities manifest with dire consequences, she runs away from home. She encounters the gruff mutant, Logan and despite his callous exterior, mysterious past and razor sharp claws, they quickly becomes friends. When two evil mutants attack the unlikely companions, the X-Men come to their rescue and bring Rogue and Logan back to Professor Charles Xavier and his School for Gifted Youngsters, a safe haven for mutants where they can learn to harness their abilities."