There's something for everyone in this week's lineup of new Blu-ray Discs, from sci-fi to comedy to classic films from the last century. Here's a look at a few choice selections.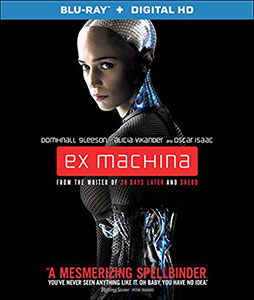 For science fiction fans, Ex Machina is available this week in a Blu-ray Disc combo with Digital HD copy. While the film was already released to Digital HD, the BD includes bonus material such as a five-part making-of featurette, eight behind-the-scenes vignettes, and Q&A with cast and crew. Amazon reviewers call Ex Machina "Brilliant," "Spooky and atmospheric," and one of the "Better AI/Singularity" movies. Price: $16.99.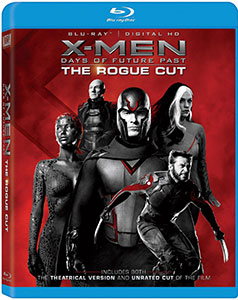 When X-Men: Days of Future Past released to theaters in 2014, much of the footage containing the superhero Rogue was cut out for consistency and total-run-time concerns. Now, 20th Century Fox has released 'The Rogue Cut' from director Bryan Singer with an additional ten minutes of film and 90 minutes of new immersive material. The Blu-ray release also includes both versions of the film, as well as a Digital HD copy via UltraViolet. There's also an Amazon exclusive edition that includes a Magneto helmet. Price: $19.99 or $62.99 (Amazon exclusive with helmet).
Criterion Collection releases three classic films to Blu-ray Disc this week, including Hiroshima mon amour (1959), The Black Stallion (1979), and Here Is Your Life (1966). Each film has been digitally restored to 1080p on high-definition Blu-ray. Here Is Your Life was transferred from a new 2k digital restoration with uncompressed monaural soundtrack, while Hiroshima mon amour comes from a new 4k digital restoration with uncompressed monaural soundtrack. The most recent film, The Black Stallion, was created from a 4K digital transfer and includes a 2.0 surround DTS-HD Master Audio soundtrack. Price per disc: $27.99.
New Blu-ray Disc releases, July 14, 2015
Ex Machina (Blu-ray, Digital HD)
X-Men: Days of Future Past the Rogue Cut (Blu-ray, DVD, Digital HD)
X-Men: Days of Future Past the Rogue Cut with Magneto Helmet (Blu-ray, DVD, Digital HD)
It Follows (Blu-ray, Digital HD)
Hiroshima mon amour – Criterion Collection (1959)
The Black Stallion – Criterion Collection (1979)
Here Is Your Life – Criterion Collection (1966)
The Second Best Exotic Marigold Hotel (Blu-ray, Digital HD)
The Longest Ride
Paul Blart: Mall Cop 2 (Blu-ray, DVD, Digital HD)
The Andromeda Strain (1971)
Powers: Season One
The Salt of the Earth
Little House on the Prairie: Season 6 Collection
Cartoon Network: Adventure Time Season Five
Sailor Moon R: Season 2 Part 1 Limited Edition (Blu-ray, DVD combo)
Howling II: Your Sister Is A Werewolf (1985)
Stray Cat Rock (1970)
Familiar of Zero: F Season 4
Blown Away (1994)
The Crimson Field (U.K. Edition)
Can't Stand Losing You: Surviving the Police
Rush (1991)
Real Men (1987)
Life Stinks (1991)
The Legend Of The Lone Ranger (1981)
Is the Order a Rabbit
Sneakers (1992)
Gangs Of Wasseypur
Baby It's You (1983)
Eternal Sea (1955)
All Quiet On The Western Front (1979)
The Game (1997)
King of the Gypsies (1978)
Man of Conquest (1939)
Shark
Some Call it Loving (1973)
Hell's Five Hours (1958)
Unwanted
Adventures of Captain Fabian (1951)
24 Days
Wyrmwood
Giuseppe Makes A Movie