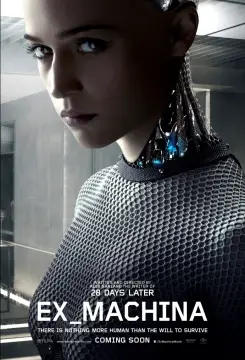 Ex Machina is one of those science fiction films that pays tribute to early, groundbreaking films such as 2001 and Blade Runner. The film, set to release on Blu-ray Disc and DVD July 14th, is now available early on Digital HD. You can get Ex Machina for as little as $10.49 SD/$12.99 HD at Xbox Video, but from most sellers the digital copy will cost you $12.99 SD/$14.99 HD.
Still trying to decide what digital service to stick with? Apple iTunes is a popular service that's especially practical for those who own several Apple devices. Amazon is also a great platform for those already utilizing the company's other services. UltraViolet is a shared platform that is supported by CinemaNow, Paramount, Verizon FiOS On Demand, and Vudu. Other video platforms include Google Play, PlayStation, and Xbox.
Here's a look at places to buy Ex Machina in Digital HD.
Ex Machina Digital SD/HD Price Comparison*
Amazon Instant Video – $12.99 (SD) $14.99 (HD)
Apple iTunes – $12.99 (SD) $14.99 (HD) – includes iTunes Extras
Cinema Now  – NA
Flixster  – NA
Google Play – $12.99 (SD) $14.99 (HD)
Sony Entertainment Network – $12.99 (SD) $14.99 (HD)
Verizon FiOS On Demand –  $16.49 (SD) $19.99 (HD)
Vudu (Walmart) – $12.99 (SD) $14.99 (HD/HDX) – includes extras
Xbox Video –  $10.49 (SD) $12.99 (HD)
Xfinity TV (On Demand) –  $16.99 (SD) $19.99 (HD)
View more price comparisons on other popular digital movie releases.
*Prices at time of article publication.