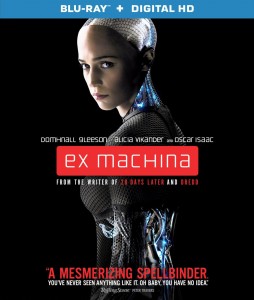 Universal Pictures and A24 have revealed the release dates for the science fiction film Ex Machina on Blu-ray Disc, DVD, and Digital HD. The film will hit stores in the US on Tuesday, July 14, 2015. (Residents of the UK will get the film earlier on June 1st.) [Update: Ex Machina was released early to Digital HD.]
[Update: Bonus material includes a five-part making-of featurette, eight behind-the-scenes vignettes, and Q&A with cast and crew. Blu-ray is formatted in 1080p at 2.40:1 widescreen aspect ratio with DTS-HD Master Audio 7.1 soundtrack.] Disc specs haven't been revealed yet, nor any information on possible bonus content, but we're hoping to get more details soon.
Ex Machina was written and directed by Alex Garlan, who also wrote 28 Days Later, Dredd, and novel "The Beach" that was adapted for screen.
The film currently has a rating of 91% on Rotten Tomatoes, and a 7.9/10 on IMDB. NY Times critic Nick Bilton calls Ex Machina "Enthralling," while LA Times critic Kenneth Turan calls the film a "compelling directorial debut for novelist and screenwriter Alex Garland."
Ex Machina is an intense psychological thriller in which Caleb (Domhnall Gleeson), a 24 year old coder at the world's largest internet company, wins a competition to spend a week at a retreat belonging to the company's reclusive CEO, Nathan (Oscar Isaac). But when Caleb arrives he finds that he will have to participate in a fascinating experiment with the world's first true artificial intelligence, housed in the body of a beautiful robot woman, Ava (Alicia Vikander). Truths, emotions and motives are blurred as the relationship between Caleb, Ava and Nathan intensifies.