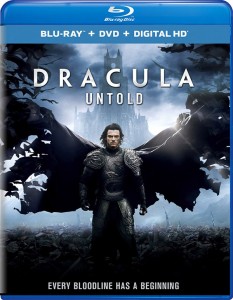 Universal Pictures Home Entertainment and Legendary Pictures have announced the release dates for Dracula Untold on Digital, Blu-ray, and DVD. Like many blockbusters, the film will be released first to Digital HD on January 20, 2015, followed by Blu-ray and DVD on February 3rd. The film will be available in a Blu-ray Combo Pack that includes a DVD and Digital HD redeemable through the UltraViolet service.
Both the Blu-ray and DVD editions will include similar bonus features including the production diary "Day in the Life – Luke Evans," the production featurette "Dracula Retold," a behind-the-scenes look at the making of one of the film's battle scenes, and feature commentary with directory Gary Shore.
Additional bonus features exclusive to the Blu-ray edition include an alternate opening, deleted scenes, interactive map "The Land of Dracula," and featurette "Luke Evans – Creating a Legend."
(See the full specs on bonus material below.)
Dracula Untold – Blu-ray & DVD extra bonus material:
Bonus Features Exclusive to Blu-ray
Alternate Opening
Deleted Scenes
The Land of Dracula – An exclusive interactive map that takes fans deep into Dracula's mysterious world, including Castle Dracula, Cozia Monastery, Broken Tooth Mountain and Borga Pass.
Luke Evens – Creating a Legend
Bonus Features on Blu-ray and DVD
Day in the Life – Luke Evans – Personal moments with the film's star provide a glimpse into life on set.
Dracula Retold – An exploration of the production, including costumes, sets and how the real history of Dracula is woven into the story.
Slaying 1000 – A behind-the-scenes look at the making of Vlad's epic battle against an army of thousands, from the script and visual effects.
Feature commentary with director Gary Shore and production designer Francois Audouy.