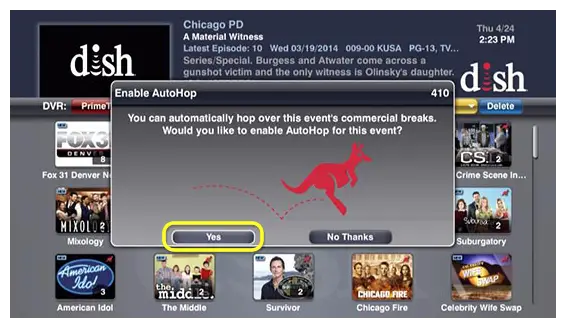 After several weeks of discussions and contract extensions, Dish and CBS finally came to terms early this morning in a multifaceted agreement that includes retransmission of local CBS stations, as well CBS Sports Network, Smithsonian Channel, TVGN, and Showtime Networks. In addition, the deal packages Showtime TV Everywhere with access to live programming on PCs, tablets and phones, and gives subscribers home access to Showtime on-demand content.
What may be the most significant facet of the deal is that all pending litigation between Dish and CBS over the dispute involving PrimeTime Anytime and Dish's commercial-skipping AutoHop feature have been resolved. As the result of the new agreement reached, AutoHop will not be available for CBS programming (on CBS Television Network-owned stations and affiliates), for a period of seven days during the Nielsen C7 window.
The events leading up to the agreement were not without flaw, however. CBS stations including CBS, CBS Sports, and Showtime channels were pulled from 17 major markets last night at 7:00 p.m. Eastern Time. Those markets included Boston, Chicago, Denver, New York, Los Angeles, and San Francisco among others.
The agreement includes retransmission consent for CBS owned stations on DISH in New York (WCBS and WLNY), Los Angeles (KCBS and KCAL), San Francisco (KPIX and KBCW), Dallas (KTVT and KTXA), Denver (KCNC), Boston (WBZ and WSBK), Chicago (WBBM), Pittsburgh (KDKA and WPCW), Atlanta (WUPA), Baltimore (WJZ), Detroit (WWJ and WKBD), Miami (WFOR and WBFS), Minneapolis (WCCO), Philadelphia (KYW and WPSG), Sacramento (KOVR and KMAX), Seattle (KSTW) and Tampa (WTOG).
If a deal had not been met by early Saturday, Dish subscribers stood to lose access to the Southeastern Conference championship football game between the Alabama Crimson Tide and the Missouri Tigers. On Sunday, CBS will broadcast several NFL matchups including the Denver Broncos vs. the Buffalo Bills, and the Kansas City Chiefs vs. the Arizona Cardinals.