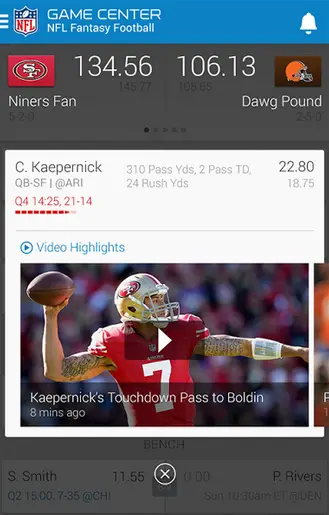 Just in time for the start of the 2014/15 NFL season on September 4, the NFL Fantasy Football app has been updated for both Android and iOS devices. The Android update (Version 1.1.1) was released yesterday and catches up with recent additions to the iOS app, including 24/7 access to both Mock Drafts and the Live Draft Lobby. The update also improves the Game Center, fixes bugs, and optimizes app features. Other features of the app include Push Notifications, live score updates, and video highlights.
The iOS app (Version 1.2.0) was updated just a few days ago with the additions of Push Notifications, In-Game Video Highlights, and improved Game Center with automatic live score updates. Recent updates also fixed app crashes, software bugs in the Game Center, and added 24/7 drafting access.
The NFL Fantasy Football app from NFL Enterprises is available from the Google Play Store and Apple Tunes. The Android app requires operating system 3.0 or higher, while the iOS requires OS 7.0 or later.
Android tablet screenshots: