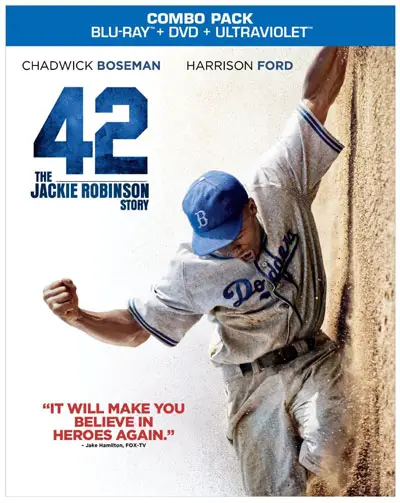 What's new on Blu-ray Disc this week? Let's start with 42 starring Chadwick Boseman, Harrison Ford, and Nicole Beharie. The Blu-ray Combo Pack from Warner Bros. comes with BD, DVD, and UltraViolet code to download the film from the cloud.
Sony Pictures' Evil Dead has been released to Blu-ray with UltraViolet copy. The edition comes with several featurettes and Blu-ray exclusives such as commentaries and two additional production featurettes.
Sylvester Stallone in Bullet To The Head is now available in a Blu-ray Combo Pack from Warner Home Video that comes with Blu-ray, DVD, and UltraViolet copy.
And, based on the pulp-era comic character, Solomon Kane has finally been released to Blu-ray Disc. The 2009 film was directed by Michael Bassett and stars James Purefoy as Kane. The standalone Blu-ray disc from Starz/Anchor Bay doesn't come with any extras but we think the film stands by itself.
We also need to mention Sony has released four new Blu-ray Discs in 4k resolution, including Godzilla, Men in Black, Moneyball, and Spider-Man 2. Those titles also come with UltraViolet copies.
Check out our Blu-ray picks for the week below. Use the Amazon link to view all new Blu-ray Disc releases this week.
Ad: Shop this week's new Blu-ray releases at Amazon.
New Blu-ray Disc releases, July 16, 2013
42
Evil Dead
Bullet To The Head
Solomon Kane
Hell on Wheels: The Complete Second Season
Orphan Black: Season One
Regular Show: Season 1 & Season 2
Erased
Lord of the Flies (Criterion Collection)
Masterpiece Mystery: Endeavour Series 1
Black Sabbath: Standard Edition Remastered
Heavy Traffic
Greystoke: The Legend of Tarzan
Godzilla (Mastered in 4K)
Spider-Man 2 (Mastered in 4K)
Arlington Road
Men in Black (Mastered in 4K)
Eve of Destruction
Jackie Chan: Battle Creek Brawl / City Hunter
Gangster Empire: Rise of the Mob
Shark Week: Fins of Fury
Kidnapped (1997): Standard Edition Remastered