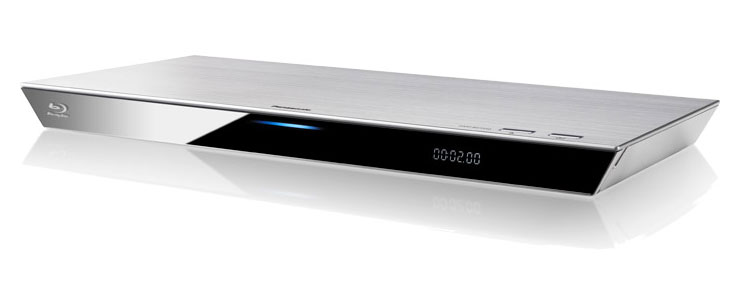 At the same time Panasonic officially announced pricing and availability of their first lineup of streaming media players, the company also released pricing on their 2013 lineup of Blu-ray players. Two of the BD players, the DMP-BDT330 and DMP-BDT230, are brand new to the Panasonic line and support Full HD 3D. Panasonic also announced the DMP-BD89 and DMP-BD79, two 2D players also new to the lineup.
Panasonic's 3D Blu-ray players all support VIERA Connect, while the 2D players include IP VOD (Internet Protocol Video on Demand) support. All of Panasonic's new Blu-ray players include external HDD Playback, DLNA compatibility, and built-in Wi-Fi (except for the BD79).
If you're making a choice, the Panasonic BDT330 offers the most features in a Blu-ray player. In addition to the specs above, the BDT330 includes Miracast, a new technology that let's you transfer and view videos, photos, video games and additional content from your Android device (with Android system 4.2 or higher) to your HDTV. The BDT330 also features built-in 4K up-scaling, a nice addition if you're planning on investing in 4k in the near future.
The 3D-capable DMP-BDT330 and DMP-BDT230 are priced at $199.99 and $129.99, respectively. The DMP-BD89 and DMP-BD79 are priced at $99.99 and $79.99. (See the full price table below from Panasonic with new models indicated in red.)
Panasonic models are available at Panasonic.com, Best Buy, Amazon, and other retailers.
2013 Full HD 3D Blu-Ray Disc Players
| | | |
| --- | --- | --- |
| | Availability | MSRP |
| DMP-BDT230 | Immediate | $129.99 |
| DMP-BDT330 | Immediate | $199.99 |
| DMP-BDT500 | Immediate | $349.99 |
| DMP-BBT01 | Immediate | $269.99 |
2013 Full HD 2D Blu-ray Disc Players
| | | |
| --- | --- | --- |
| | Availability | MSRP |
| DMP-BD79 | Immediate | $79.99 |
| DMP-BD89 | Immediate | $99.99 |