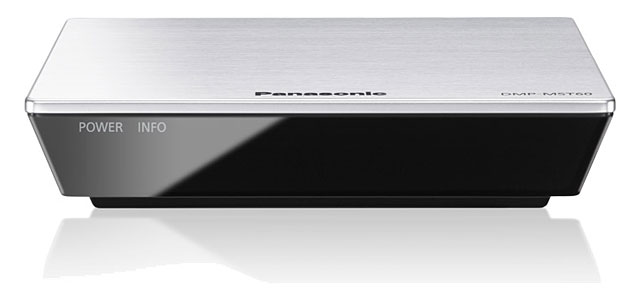 Panasonic has announced pricing and availability of their first line-up of streaming media players. The DMP-MST60 and DMP-MS10 are priced at $99.99 and $79.99, respectively. Available starting today, both players include built-in Wi-Fi and external HDD Playback, but the slightly higher priced MST60 (pictured above) is almost a no-brainer in terms of features. With the MST60 you'll get VIERA Connect allowing the player to work with other VIERA-enabled devices such as Blu-ray players and Home Theater systems. The MST60 is 3D-capable, boasts 2D-3D conversion, and includes a web browser. An additional feature of the MST60 is Miracast, a mirroring technology that lets you transfer and display photos, music, video games, and videos from your Android smartphone and tablet directly to an HDTV. (Android version 4.2 or higher is required.)
The less expensive MS10 doesn't include VIERA Connect, but rather utilizes IP VOD (Internet Protocol Video on Demand) to stream content from apps such as Netflix, Hulu Plus, and CinemaNow.
The media players are both available on Panasonic.com.