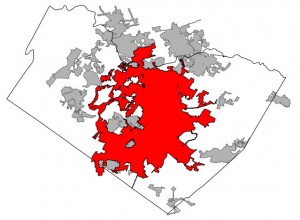 Google has officially announced its fiber broadband service will be expanding to Austin, TX. Previously only available in areas of Kansas City (both in the states of Missouri and Kansas), the service offers customers up to one gigabit per second speed. Google says that's about 100-times faster than the average broadband service offered today. Don't hold your breath, however. Google says they're expecting to roll out Fiber Internet and TV service to Austin by mid-2014.
Google Fiber in Austin will offer a similar service to what customers receive in Kansas City: standalone Gigabit Internet service or Gigabit Internet with Google Fiber TV boasting about 200 HD channels. Customers will also be able to opt for free 5 mbps internet for 7 years with a one-time construction fee.
Is Google Fiber deserving of all the media hype? Yesterday, Engadget published comments on a press release officially announcing the service in Austin, but apparently the PR from Gig.U was just a test release for the official launch. As a result, the Google Fiber news has been one of the hottest topics in technology news since the start of this week.
Source: Google Fiber Blog