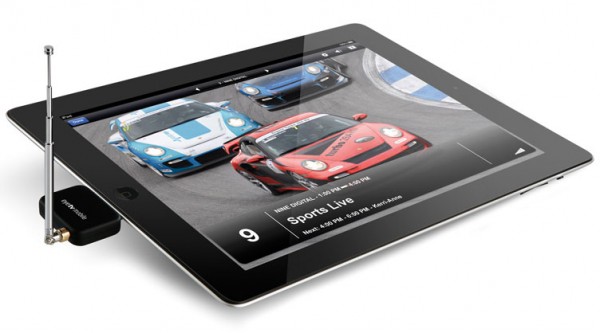 Want to watch local TV on your iPad for free? Elgato recently released the EyeTV Mobile TV tuner for Apple iPad and iPhone, which lets you watch live TV over-the-air for free. In case any one forgot, local TV is still free. All you need is an antenna and digital receiver to watch CBS, ABC, NBC, FOX, PBS and many other channels without a service provider.
How does it work? Elgato's EyeTV Mobile product combines a TV tuner with a free downloadable app. The tuner plugs into the port on your iPad or iPhone, and has a telescopic antenna to pick up TV broadcasts.
The app (available in the Apple store) incorporates Dyle mobile TV software which connects available channels in your area. Of course, your channels may be limited depending on broadcast range and any obstructions. And, Dyle isn't available in all markets. The Eye TV app also allows you to pause and resume live TV.
The EyeTV Mobile solution from Elgato costs $99, and comes with the TV tuner, miniature telescopic antenna, additional rod antenna with magnetic base and suction cup, and USB cable.
Since TV broadcasts are free, and no internet connection is required, watching TV won't affect your data plan bandwidth limits.
Elgato was one of the first companies to bring a consumer USB-based TV dongle for PCs to market, allowing you to watch over-the-air TV (even in HD quality) on your desktop or laptop.
You can find more Elgato mobile TV products on Amazon or at Elgato's website.