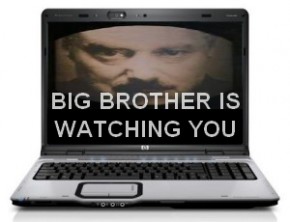 Earlier in the week, ExtremeTech's Joel Hruska reported on the filing of a new Microsoft patent that should have Xbox users more than a little worried.  It seems that Microsoft will allow the Kinect motion sensing device for Xbox 360 to potentially spy on users as they engage the device or use their Xbox when watching movies or even playing games to make sure their not exceeding the content license agreements that various content producers have put in place to limit public access (that is to say, they don't want you running your own movie theater and not paying the distribution or rebroadcast fees they normally charge).
Most folks never have to deal with exceeding license limits on movies, TV shows, etc. when you play back a disc or stream content from a service provider.  Usually, it's for you alone or family or friends, not the entire neighborhood or town.  However, on the strength of the DMCA (Digital Millennium Copyright Act), and depending on the content, this could mean that having having the gang over to watch a movie or play a video game could open you up to a fine or lawsuit… but, of course, this is all speculation as, for now, we have only the filing of the patent to go on and not much more.  But as ExtremeTech notes, this may be a way for Microsoft to license content via different tiers depending on how many people are in the viewing space at any one time.  The patent diagram clearly shows that once a user chooses content to consume, they are then offered a licensing tier for purchase (say, perhaps one or two people), from there the Kinect's camera eye would scan the viewing space for warm bodies, calculate the number of people in the room and play the content… or block the content, if the tier chosen is exceeded, until an expanded license is purchased for more users.
This would clearly initiate a dynamic shift in home "theater" viewing as content license restrictions are usually geared toward content used in public spaces (projected in rented theaters, for instance, or viewed at the corner bar equipped with cable or satellite).  Suddenly, the potential for license restriction in the home based on the number of friends or family you have over to kick back on the sofa becomes a serious issue, not to mention the fact that the Kinect is watching you and making computerized assumptions, predictions and, well… the damned thing is WATCHING YOU!!  If George Orwell isn't already on a never-ending spin cycle in his grave from the way government and big business abuses tech, then he's probably doing backflips over just how oblivious the average consumer is to all of this.

No word on whether Sony's PlayStation Eye has potential for this (and I doubt if anyone cares if their Wii is watching them through their Remote Plus controller), but it should make gamers, movie lovers and other end-users of Microsoft's products shudder at least a little bit.  Then again, seeing how easily we give away our rights for shiny toys and stuff, control over how you privately use content may no longer be the safe harbor you think it is, and you'll have to really think about weighing consumer convenience over personal rights and the liberty to use purchased content in any way you see fit.
About the Author:
Christian Hokenson enjoys knife throwing, growing exotic mosses, and that warm spot where the sun shines through the box. You can also find Christian on Google+.