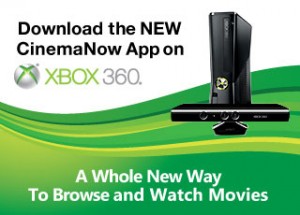 Best Buy's CinemaNow is now available for Xbox users on Xbox Live. The service lets users rent or purchase premium titles such as Underworld: Awakening and Thor through the CinemaNow app, though it's hard to find many available titles in HD. HD (High-Definition) titles stream at 8000Kbps and 24 or 30 (29.97) frames-per-second. SD (Standard-Definition) titles are available at an average bitrate of 2000Kbps at 24 or 30 (29.97) frames-per-second.
To grab the free app login to Xbox Live with your Gold Membership, then go to Apps > Apps Marketplace > Video > See All > Cinema Now.
On a PC, HD quality also requires a PC with 2nd gen Intel Core processor and at least Windows 7 viewed on a display 1280 x 720 pixels or greater.