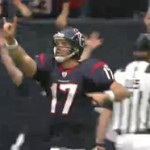 It's one of the best weekends in football! The NFL has announced the 2011/12 Wildcard Playoff schedule for next weekend. First off, the Texans (10-6) face the Bengals (9-7) on Saturday, Jan. 7 at 4:30 p.m. ET for an AFC spot. Then, the 13-3 Saints host the 10-6 Lions at 8:00 p.m. ET for an NFC spot.
On Sunday, Jan. 8 the NFC games continue with the New York Giants (9-7) hosting the Falcons (10-6) at 1:00 p.m. ET. Finally, at 4:30 p.m. ET, the 12-4 Steelers battle the 8-8 Denver Broncos for the final AFC position.
See below for a full schedule of the 2011/12 NFL Wildcard weekend, and the hosting networks.
AFC
Sat., Jan. 07, 4:30 PM ET NBC
Cincinnati vs. Houston
Sun., Jan. 08, 4:30 PM ET CBS
Pittsburgh vs. Denver
NFC
Sat., Jan. 07, 8:00 PM ET NBC
Detroit vs. New Orleans
Sun., Jan. 08, 1:00 PM ET FOX
Atlanta vs. New York Giants