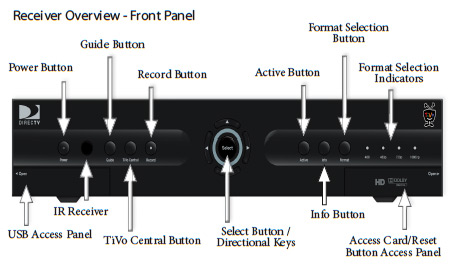 It's been a few years in the making but DIRECTV is now offering TiVo HD DVRs to customers in 10 large markets across the U.S. (see full list below). The TiVo DVR will cost an extra $5 per month for TiVo service, on top of the standard $7 DIRECTV DVR fee, and $10 HD upcharge. The co-branded DVR supports MPEG-4 video, picture in picture, TV apps, TVmail, and HD formats in 720p, 1080i, and 1080p(24fps) resolution. If your city isn't listed below, DIRECTV says "rollout for all remaining markets is still being evaluated." Ol' school TiVo users have got to be happy about this one, regardless of the extra $5 fee.
10 markets where DIRECTV is rolling out TiVo:
Chicago IL
Denver CO
Los Angeles CA
New York NY
Philadelphia PA
Phoenix AZ
Sacramento CA
San Francisco CA
Seattle WA
Washington DC
Want more info? Check out the DirecTV forum discussion and/or download the TiVo HD DVR specifications.