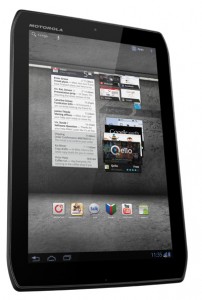 Verizon and Motorola have partnered to release two new DROID XYBOARD tablets this month with Android 4.0 "Ice Cream Sandwich" operating systems. The tablets boast dual-core 1.2 GHz processors, 1 GB of RAM, and MotoCast. (MotoCast provides remote access to docs, music, video and pictures on your own hard drives, as long as they are non DRM-protected.) For displays, the 10.1-inch and 8.2-inch models feature high-def resolution, In-Plane Switching, and scratch-resistant Gorilla Glass. Cameras on the front and back of the tablets allow video chatting, at 1.3 and 5-megapixels, respectively.
The DROID XYBOARD 10.1 will ship in three models that include 16GB ($529.99), 32GB ($629.99) and 64GB ($729.99).
The smaller DROID XYBOARD 8.2 will be available in 16GB ($429.99) and 32GB ($529.99) hard-drive configurations.
Both models require 2-year agreements at the pricing above. For more details click "Show Press Release" below.