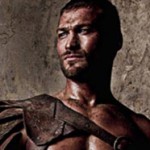 In memory of the death of Andy Whitfield, Starz will run the entire series "Spartacus: Blood and Sand" starting on Sunday, Oct. 2 at 9:00 pm. The re-broadcast will begin with Episode 101 – "The Red Serpent," when the Thracian warrior first faces death in the gladiator arena.
"Spartacus: Blood and Sand" premiered on Starz network January 22, 2010. During production of the series, Whitfield was diagnosed with early-stage non-Hodgkin lymphoma. Although he was able complete the series he was re-diagnosed preceding production of the second season of "Spartacus" and turned down continuation.
Andy Whitfield unfortunately passed away on September 11, 2011 at the age of 39.
"Spartacus: Blood and Sand" also stars Lucy Lawless, John Hannah and Peter Mensah. The show is presented in both SD and HD (1080i) on Starz channel.