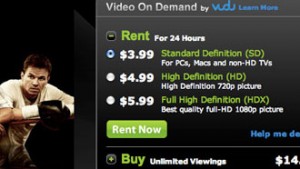 Today Walmart announced "full integration" of its VUDU movie service, offering customers thousands of titles for purchase or rental. The titles can be streamed from VUDU.com, Walmart.com, or through VUDU-supported devices such as Blu-ray players and certain HDTVs. Walmart says VUDU is now supported on over 300 devices.
The movies can be rented and streamed in several different resolutions including Standard Definition (SD), High Definition (HD), and VUDU'S High Definition 1080p (HDX) format.
We looked at recent release "The Fighter" starring Christian Bale and Mark Wahlberg for available formats and rental cost. The pricing was as follows: SD ($3.99); HD ($4.99); and HDX ($5.99).
A full purchase of the "The Fighter" which allows unlimited viewing is listed at $14.99, but unfortunately was only offered in Standard Definition. However, when we took a look at newly released "Source Code" the movie was offered in both HD and HDX for $19.99.
What's interesting though is a disclaimer that popped up when going to purchase "Source Code." The disclaimer read as follows: "Studios may impose blackouts on their videos with little notice. During a blackout period, videos are not available to rent, buy or watch." Does this mean a title could be "interrupted" even when purchased? Would a customer receive a refund for an "incomplete" stream while renting?
With Netflix against the ropes, you can expect Walmart to push it's VUDU product to customers who might want new releases quicker than Netflix was able to provide. However, Walmart's á-la-carte method of renting movies may still give Netflix an edge for those who are willing to wait the extra month(s) in exchange for a monthly subscription rate.