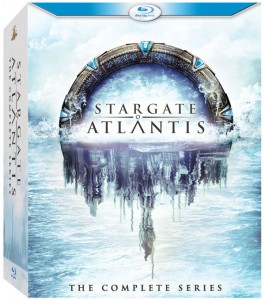 It's no easy pickins' this week with a lack of Blockbuster films and must-have classics in the lineup. Although you might consider a few of the titles "great films," whether or not their "greatness" warrants a purchase is up in the air. For the most part, we rank all the titles this week as Blu-ray rentals rather than purchases with the exception of "Stargate Atlantis: Complete Series Gift Set."
SUGGESTED PURCHASES
The "Stargate Atlantis: Complete Series Gift Set" would literally take forever to watch and so having the Complete Series on Blu-ray will allow you watch at your leisure. The 20-disc set contains plenty of audio commentaries, featurettes, and deleted scenes that will keep you busy even after finishing the 100 episode marathon. BUY
SUGGESTED RENTALS
The 2011 film "Source Code" is a mystery/sci-fi thriller that stars Jake Gyllenhaal and Michelle Monaghan. Gyllenhaal plays a US Army helicopter pilot who wakes up in a commuter train and realizes he is someone else. The $32 million film didn't do so well at the box office but looks great on Blu-ray. A title worth watching but one suited better for rental than purchase.
Two classic John Belushi titles get hi-def treatment this week: "National Lampoon's Animal House" (1978) and "The Blues Brothers" (1980). Both films are funny as all hell and must-haves for Belushi fans. But if you've got the DVD we're not so sure the Blu-rays are worth purchasing.
"Red Planet" (2000). Personally, this is a film I will purchase just because it's a good sci-fi title and I'm ready to pass-on my DVD version to the local library. Val Kilmer, Tom Sizemore and Carrie-Anne Moss (a year after she appears as Trinity in the first "Matrix" film) travel to Mars searching for an escape from a dying Earth. For those on a spending budget, rent this title and you might even watch it twice.
Kurt Russell, Jason Scott Lee, Gary Busey star in the 1998 film "Soldier" that flopped at the box office even with an estimated budget of $60 to $75 million and a script written by David Peoples who co-wrote 1982's "Blade Runner." It's a decent film for sci-fi/action fans (and you can look for any similarities to "Blade Runner") — but one better suited to send back to Netflix, Redbox or Blockbuster after watching.
MORE RENTAL SUGGESTIONS:
Dante's Peak
Soldier
Life During Wartime: The Criterion Collection
High and Low: The Criterion Collection
Justice League: Season Two (DC Comics Classic Collection)
Dylan Dog
Ironclad
Here's a link to all Blu-ray Disc titles for the week of July 26, 2011.