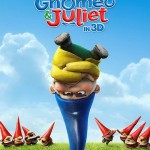 Time Warner Cable is now offering Gnomeo and Juliet in 3D On Demand. The On Demand title comes the same day as the DVD release this week. Of course, you need a 3D TV and 3D glasses to appropriately view the 3D title.
To find Gnomeo and Juliet in 3D or 2D HD, look under the HD Movies On Demand channel in your Time Warner Cable guide. The SD version can be found in the "All New" category on the Movies On Demand channel.
Gnomeo and Juliet is distributed by Touchstone Pictures in the U.S. and was created by Rocket Pictures and Starz Animation.