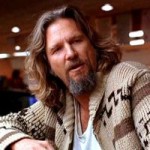 The Big Lebowski will release as a limited edition Blu-ray Disc on August 16, 2011. The Coen Brothers cult-status film has been remastered in hi-def and will be accompanied by behind-the-scenes footage, a Jeff Bridges photo book, several featurettes and documentary "The Making of The Big Lebowski."
The limited edition will also feature a 28-page companion book featuring an exclusive interview with Jeff Dowd (the real-life inspiration for The Dude). A digital copy of the film will also be included in the edition.
"The Big Lebowski Limited Edition" is formatted in 1:85:1 widescreen aspect ratio with DTS-HD Master Audio 5.1. Other BD-exclusive features include uHear, pocket BLU and BD-Live.