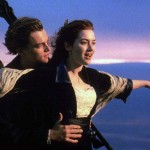 Its' the second highest earning film of all time and now its getting remastered in 4K and converted to 3D. Paramount Pictures, Twentieth Century Fox, Lightstorm Entertainment and James Cameron will release "Titanic" in 3D worldwide on April 6, 2010. The theatrical release will mark the 100th anniversary of the Titanic's maiden voyage on April 10, 1912.
"[] The global phenomenon of 'Titanic' remains one of the greatest sources of pride in our history. We are pleased to allow a new generation of audiences to experience the film in its brilliant digital restoration in 3D." said Fox Filmed Entertainment's Chairmen and CEOs, Jim Gianopulos and Tom Rothman.
"[] This will be 'TITANIC' as you've never seen it before," said Cameron.
SOURCE: Paramount