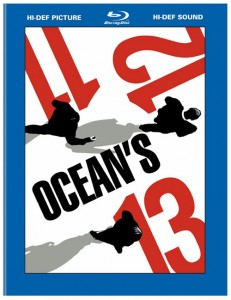 The "Ocean's Trilogy" on Blu-ray Disc is half-priced this week as Amazon's Blu-ray Deal of the Week. The list-priced $35.99 box set with three hi-def BDs containing "Ocean's Eleven" (2001) "Ocean's Twelve" (2004), and "Ocean's Thirteen" (2007) is now priced at $17.99.
The discs aren't loaded with extras, but do contain audio commentary, featurettes "HBO First Look: The Making of Oceans Eleven," "The Look of the Con," "Behind the Story," and movie trailers. The Warner Home Video release is formatted in 1080p with a widescreen aspect ratio of 2.40:1. TRT is 363 minutes.
Directed by Steven Soderbergh, the 'Oceans' series star your favorite leading men: Brad Pitt, George Clooney, Al Pacino, Matt Damon, and Andy Garcia. (But let's not forget Julia Roberts as Tess Ocean in 'Eleven' and 'Twelve."
The deal runs through May 28, 2011. Get the Amazon Deal of the Week.