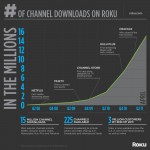 Roku has announced a milestone of 15 million channel downloads spread out among its base of over one million Roku users. Roku currently offers 225 entertainment channels while still expanding. Streaming services such as Netflix, Hulu Plus, Amazon Instant Video, Pandora, NBA GAme Time are available to Roku customers.
Roku explains customer growth (which they say will triple by the end of this year), can be attributed to two factors: one is the availability of more content in the Roku Channel Store; and two is the availability of Roku media players in U.S. retail stores.
"The popularity of Roku is driven by our inexpensive price points, which drive mainstream adoption; and the strength of our open platform," said Roku Founder and CEO Anthony Wood.