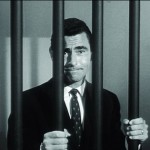 Amazon's Blu-ray Deal of the Week is a 50% markdown on The Twilight Zone: Seasons 1, 2, and 3 on Blu-ray Disc. Each boxed-set consists of all episodes of the season as well as bonuses such as radio dramas, never-before-seen footage and pilots, new audio commentaries, and isolated film scores. The three Blu-ray boxed-editions are as follows:
Twilight Zone: Season 1 – 5 discs – 36 episodes
Twilight Zone: Season 2 – 4 discs – 29 episodes
Twilight Zone: Season 3 – 5 discs – 37 episodes
Some popular actors you may have heard of who appear in Twilight Zone episodes include Rod Serling, Carol Burnett, Anne Francis, Burgess Meredit, and the one and only William Shatner.
List priced at $99.98, each season of The Twilight Zone is marked down over $53 to $46.49. Here's the link to order on Amazon.