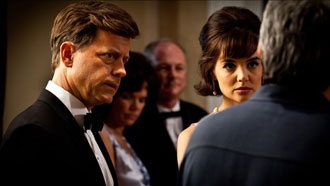 Reelz Channel is running a marathon of the 8-part television series The Kennedys today, April 9. If you missed any previous episodes, or weren't able to catch any, six episodes of the original series will air starting at 2 p.m. ET / 11a.m. PT.
Reez will run another marathon tomorrow, April 10 starting at 1 p.m. ET / 10 a.m. PT. The two-hour finale of The Kennedys (episodes 7 and 8) will air later at 8 p.m. ET / 5 p.m. PT. Encores will air at 11 p.m. ET / 8 p.m. PT.
The Kennedys is available on DirecTV channel 238, Dish Network channel 299, Verizon FiOS channel 233, AT&T U-verse channel 799, and cable TV systems nationwide. For The Kennedys in high-definition, check your provider's listings.