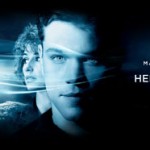 The man who doesn't seem to pick a bad script, Matt Damon, has his own video-on-demand category within the Time Warner Cable library. The dedicated category will run until April 11 and features the Oct. 2010 release Hereafter, starring Damon along with Belgian-born actress Cécile De France.
Two of the Bourne films are included in the category, although strangely enough Bourne Identity isn't in the mix. The Departed, Ocean's Eleven and The Good Shepherd also make up the eleven featured titles.
You can find the 'Matt Damon' category under the Movies On Demand channel if you are a Time Warner Cable digital customer. See the complete list below.
Hereafter
The Bourne Supremacy
The Bourne Ultimatum
The Departed
The Good Shepherd
Ocean's Eleven
Ocean's Twelve
Ocean's Thirteen
Stuck On You
Syriana
Good Will Hunting